Post by Charlie on Jul 25, 2013 0:16:34 GMT -5
PREVIOUSLY IN GREEN LANTERN...
Did you read last issue? Then you know that Kyle Rayner-- long thought dead at the hands of Krona, the Mad Guardian-- and Sinestro-- long thought dead after his escape from the clutches of the first Green Lantern, the psychopathic Parallax-- actually live!With them, a human child, nearly a year old, and of unknown origin...
Their mysterious exile comes to an abrupt end when a cosmic event opens up above their heads and unleashes the horrific hordes of the Red Lantern Corps! What do they want? Where did they come from? Who knows..?
YOU WILL SOON!
Meanwhile, Alex Nero, a madman whose disappearance was investigated by Guy Gardner and Hal Jordan in better days, has returned, empowered by a mysterious energy source, and he has unleashed his new power at John Stewart's place of work, bringing the building down on the Green Lantern's head!
Hank Henshaw is imprisoned under Oa with the worst of the worst that the galaxy has to offer, a group labelled '
Inversions
' by the Guardians of the Universe! Hank Henshaw vows to escape, but how will he go about it?
Guy Gardner's entire personality has changed after the beating he took at the hands of the Predator-possessed Hank Henshaw. His wild mood swings endanger those around him, but what will Arisia Rrab do when she sees him at his new worst?
Did I mention the
Red Lantern Corps
? I did?
THEN PREPARE FOR
...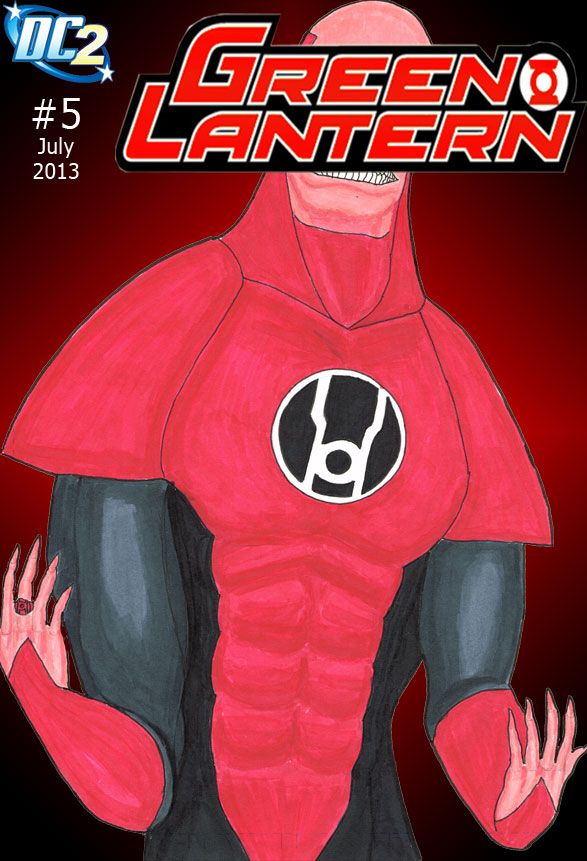 GREEN LANTERN
Issue Five (45): "The Crimson Scar "
Written by House Of Mystery
Covered and Edited by Alex Vasquez
"It's time," said Sinestro, grabbing the makeshift weapons he had been constructing in his spare time. He took the child from Kyle's arms and held her close to his chest, and then pointed at the young human with a look of determination. "This past year we've spent together training, it's time for you to use it."
"What are you talking about? I can't fight that--!" Kyle looked up at the horde of creatures that had emerged from the cosmic maw that split open over their heads mere moments ago. The creatures were swirling around like points of scarlet light against the blackest darkness of space, but they wouldn't swarm there for long. "I can't even break orbit, I can't even--"
"I'm not here to coddle you, Rayner!" growled Sinestro. "You've kept us alive out of sheer force of will! We've not eaten for over a year! We've not found water! We should be
dead
but you've kept us alive! You still have all the power of the Central Power Battery! Everything you were, you still are!"
There was an explosion in their camp, a horrific crashing that caught both men by surprise. Soranik began to cry, and Kyle raised his hand at the plume of smoke that was rising out from the crater.
<zzzssspttt>
"What?" Kyle jumped back a step, and then saw a spiral of information form around his hand, rotating slowly at first, then building up as it went. Spouts of information in the Oan language were being written into existence then erased to make room for Sinestro smiled, understanding the implication.
<Connection to the Book of Oa re-established; information downloading>
"Oh my God," whispered Kyle.
<The air is thick with the meat stink of humanity,> growled a metallic, strange voice from the crater. <Even here, in the Forbidden Zones, you still haunt me, you bastard things. I had hoped to not meet your kind until we burned your world down. But I shall have to slake my thirst for vengeance on you, and then the rest of your peoples later.>
"I don't care who you are," said Kyle, "I don't give a
damn
, you don't threaten me, and you don't threaten Earth."
A creature strode out of the crater and let out a thick, crackling below. His face was like a red skull, pointed cheekbones under his eye sockets, no lips but sharp, yellowing teeth. There were burns around his twisted, open mouth, and his eyes were black pits with pink pricks of white light dancing about as he looked around the area.
<Kyle Rayner. I know of you. Your legend burns bright in my time. My legend shall engulf yours.>
There were more explosions as the red lights that hung in space like stars plummeted on their camp, sending rubble and debris every which way into the surrounding jungle.
"He's not talking," said Sinestro, a step behind Kyle and hating that fact. Hating he couldn't do anything to help but hold onto the child and instruct his human charge. "It's his
ring
, his lips aren't moving and there's no voice coming from his mouth." He was right, of course. The words were coming from the power ring on the creature's finger. As he watched, more of the Red Lanterns emerged from the craters, blood bubbling up in their open mouths and dribbling down their chins. They growled and spat, the blood sizzling on contact with the ground.
<And Sinestro. The wise old man of the Green Lantern Corps. But you never saw us coming. Could never warn your masters of the threat we are to your existence. We killed you once and we'll kill you again, one superseding the other. A paradox.>
"
Who are you
?" demanded Kyle. "What the hell are you talking about?"
<I am
Atrocitus,>
said the creature, his words followed by cheers and screams from his cohorts, <and your
great
Hal Jordan slaughtered my family, my world, my entire home Sector! He murdered billions! And now I'm going to do the same to
him
!>
"Take Soranik and run," said Sinestro, leaning to Kyle's ear. "There are dozens of them here, and hundreds still in the sky. You can make a run for it, get to safety. You can exit the atmosphere and break orbit, you have it in you."
"I can't leave you," said Kyle, not looking away from Atrocitus. "I can get us to safety. I can--"
Atrocitus took a step forward, and there was an almighty sound as his legions followed. <No matter how far you run or how fast you go,> another step, drawing them closer and closer to the three of them, <I will find you and wet my throat with your blood, Lantern pigs. Prepare to be the first of billions.>
Kyle reinforced the protective shell around Sinestro, the child and himself, and then Atrocitus vomited up a deluge of burning blood that sizzled against the construct Rayner had projected. His eyes opened up wide as he realised what was happening to his energy, how it was
burning
, how it was
melting through
. "Oh my God."
Sinestro grabbed Kyle by the shoulder and spun him round. "
Get us out of here then
!"
"Sinestro, I don't know how--" Kyle was glowing the brightest shade of green Sinestro had ever seen. Thaal didn't have a chance to remove his hand from the boy's shoulder before there was a massive popping sound and--
--They were gone.
<Human cowards!> Atrocitus trudged around the camp site, swatting at the structures that Rayner and Sinestro had erected over their time on the planet. <They can run, but we shall find them soon enough. Billiyle!>
A hulking Red Lantern stepped forward. <What are your orders, Atrocitus?>
Atrocitus, looked to the stars and with scarred, blistered lips, managed to smile. <Track Rayner and Sinestro. Shatter their skulls and bring me their corpses. Take a contingent with you just in case they put up a fight. The human Lanterns pose the gravest threat. Koarse will seek out Guy Gardner. Nadryzl will destroy John Stewart. We shall spread word of our arrival, and then take the final battle to Hal Jordan-- and to Earth!>
Sector 1417 – Korugar City
Kyle fell to his knees and vomited up the contents of his stomach, an action that surprised him as he hadn't eaten a thing for over eighteen months. Soranik was wailing and Sinestro was dumbfounded. They were in the middle of a bustling city street, but everything had slowed to a crawl as Kyle's emerald shield faded into nothingness. The people of the city were staring at the three of them, confused as to what was going on.
"How did you, how is this," Sinestro spun around, completely confused, the child in his arms barely registering to him, "how is this
possible
?!"
"Wh-what?" gasped Kyle.
"You bought me home, Kyle," said Sinestro, a half-smile forming on his lips. "You bought me home!"
"I..." Kyle was pale and unable to stand, dribs and drabs of emerald energy drifting off his body and filtering into the atmosphere. "I feel like crap." Kyle saw Sinestro smiling, realising that the man before him hadn't been home for years. He then blacked out, unable to construct any more thoughts than that.
Sector 0 - Oa:
"He is threatening our plans and something must be done."
"But what?"
"I don't know. Guy Gardner is too well placed. Too well positioned. Any action against him would be tantamount to--"
"Silence now. We have visitors--"
The door cracked open and light engulfed the Zamoran throne room that the Star Sapphire Corps had delivered to Oa after their truce was made. Katma Tui and Salaak entered and joined the meeting of Star Sapphires that were already gathered.
"I hope we are not interrupting," said Salaak.
"No," said the first Star Sapphire. "I know of you, Lantern Salaak, but we have not been formally introduced. I am Kelso Noss, and I represent the Corps during the absence of our Queen." The Sapphire had a pale, green skin tone and thick, black hair. Salaak bowed in respect to her and she returned the favour. Noss motioned to the other two Sapphires that were with him. "This is Miri Riam and Jela Karom. They are the Templars of the Star Sapphires. Agents of truest love."
"A pleasure," said Salaak. "I am thankful that you allowed us this audience, Sapphire Noss."
"We are guests in your home," said Noss with a smile, "you honour us."
Katma was about to say something when her ring throbbed on her finger. "Salaak, my apologies, I... I am needed."
"Katma?" Salaak was confused by his comrade's reaction to the message she had just received on her ring, but understood that Katma would not leave if it were not important.
"Lantern Tui, please, allow Miri to accompany on you journey back to Korugar."
"How did you--?"
"Your heart is always there," said Riam, following after Tui, "we can see it as clearly as the ring on your finger."
"I... of course, of course, please," Katma lifted off, followed swiftly by Riam.
Noss looked at Karom, and the latter excused herself from the room. Salaak and Noss were alone, and the Star Sapphire finally took a breath. "It is hard to hold this responsibility," she took a seat on the steps leading to the throne, and flexed her back, trying to work out a kink. "Our Corps may not have the membership the size of yours, but all the responsibility for over three thousand Sapphires, all on my shoulders, I sometimes fear I am close to failing in my role."
"Your efforts are admirable," said Salaak, look around the Throne Room. "And your continued pledge toward the protection of the universe is one I respect in the utmost."
"Why thank you, Lantern Salaak," said Noss. She was smiling again. "May I ask why you are here?"
"I wish to invite you to join our Council, Sapphire Noss," said Salaak. "Combined, our Corps would be a nigh unstoppable force for good. There have been skirmishes between our Lanterns, petty misunderstandings, and those of us," he tapped the symbol on his chest, "who are part of them have been reprimanded duly."
"As have ours," said Noss.
"We have a truce, an understanding, but let us extend that. Would you be willing to share your opinion and thoughts on the universe, Sapphire Noss?"
"I accept," said Noss, extending a hand to Salaak. He took it and there was a spark of energy between their two rings. "I look forward to working with you more closely in future, Lantern Salaak."
"And I you," replied the Lantern.
Sector 2814 – New York City:
John Stewart woke up with a start, the world falling down around him. He looked down at his hands, and felt the aura of protection his ring projected flickering. His body was covered in tiny scratches, shards of glass. All he could feel was fire and pain, and all he could hear was...
Laughter?
"Your rings do not stand a chance against the might of chaos, John."
Alex Nero was on fire. His entire body was reconstituting itself after the explosion mere moments before, and John could see that his skin was alabaster, his long, ginger hair the same colour as the fire crackling in his chest.
"What are you?" asked John.
Alex was complete, and his skin tone returned to it's normal, human complexion. "I am Alex Nero. I am the herald of Parallax and the first Effigy of many to come."
John powered up his ring, was about to send a blast of pure energy into Nero's heart, when Alex shook his finger at the Green Lantern.
"Look at where you are," said Alex. "Look at what I did."
Stewart ignored the order, instead sending Nero staggering back with a solid construct projected from his ring. He took stock of his surroundings and realised he was on street level, and the entire world all around him was rubble. "My God," he whispered. He had been on the top floor of the three story building that made us the architecture firm, and Nero's explosion had obliterated everything!
Alex Nero laughed, and began to dissipate before John's eyes. "This is the first strike, John. Many more to come. Parallax is coming."
Nero was gone, and John was sifting through the rubble trying to find survivors, but all he found were broken, dead bodies. "Ring, find me life signs, find me them now!"
<Locating.>
Emerald finder beams shot out from his ring and sifted through the wreckage. The majority of them returned, but seven remained within the rubble, and John concentrated, the finder beams growing, surrounding the source of life they had located. Unconscious survivors began to rise out in spheres of light, but there was one that caused John surprise--
He had located Bradley Roth, thankfully alive, but a swarm of horrific, child-sized creatures were clambering over the energy sphere, pounding their tiny clawed fists against the emerald shield. John sent a charge through the energy and forced them away, and for a second he thought he'd have a fight on his hands but they scattered, vanishing back into the rubble.
"Track those bastards!"
<Unable to locate life signs,> replied the ring.
"Is it time yet?
John blinked and looked at his ring. The voice was different from the one that normally came out of his power ring. Softer. Colloquial.
"Time for what? Dammit, now is not the time for you to get buggy! I need those creatures, where did they--?"
<No further life signs detected,> repeated the ring.
John stood amongst the chaos. Dozens dead. Seven survivors. Alex Nero would have to wait, these survivors needed urgent medical attention. Too many mysteries. Not enough time to commit to any one. He flew, his teeth grinding together as he thought through the options.
Sector 1417:
Katma Tui rocketed toward Korugar, local news feeds streaming from her ring directly into her brain. Three humanoids had appeared in the capital, massive energy readings pre-empting their arrival and lingering after the fact. The energy reading was familiar, but her ring couldn't analyse it, not yet, so she knew she had to get there as soon as possible.
An emerald light zipped toward her in the subluminal stream she was travelling inside, and the robotic form of Stel joined her in her urgent travels. "I understand this must have been difficult for you."
"What do you mean, Stel?" asked Katma, not taking her eyes off her intended target, the exit of the tunnel far ahead of her. She knew what was coming, and even as she feigned ignorance to Stel's question she felt her poker face twitch, ever so slightly, with discomfort.
"After your partner Thaal Sinestro was corrupted by the Legion virus, you have been apprehensive to partner up with any other Lantern, especially when it comes to your home world of Korugar."
"There's a massive energy fluctuation, familiar to our rings but not... not
right
," said Katma. "It would be foolish not to take advantage of your support and insight, Stel."
"...Of course." Stel's vocal box fell silent, and the two of exited the subluminal tunnel.
The two Lanterns pierced the atmosphere and Katma breathed in deeply when the air was breathable, dropping her protective shield for a split second to take in her home.
"There," Katma led the way down toward Korugar City, and landed in front of one of the largest hospitals in the city. Her ring was showing the source of the energy discharge had been taken from one of the main streets of the city to the hospital, an emerald blur hanging in the air showing the direction they had travelled.
"Stel. I think..." Katma swallowed hard. Something was playing at the back of her mind.
<I shall patrol the area, ensure that the city is not experiencing any other incursions,> said Stel. <Signal me if you require assistance.>
"Yes, yes, of course," said Katma, "
thank you
." Katma descended toward the hospital. She phased through the walls, much to the surprise of the female doctor she appeared before. "I am sorry for dropping in like this so unexpectedly--"
"Katma!" beamed the doctor, rushing over to the Lantern and embracing her tightly. "You've been gone for so long!"
"Too long," said Katma, embracing the doctor. "Naal, you look wonderful!"
"Sister, please," said the doctor. "I know that you did not come here to see me, I know you have other reasons--"
Katma raised her hands to interrupt. "Naal, no--"
Naal Tui shook her head. "Katma, you are an awful liar, and I don't mind that your work with the Green Lantern Corps keeps you from us, you perform great acts across the universe! Father's subspace feed teems with newscasts about you and your fellow Lanterns! But your reason for being here, the two... well...
three
recent new arrivals to Korugar City, they need you attention immediately."
Katma followed her sister through the corridors, doctors, nurses and patients parting as the two sisters moved toward one of the wards.
"He's been asking for you," said Naal.
"Who is he?" asked Katma.
"...Who else?" said Sinestro, sat facing the door as the two Tui sisters entered. To his right was a curtained off bed, and to his left a small human child in an appropriately sized incubator-type machine, smiling and giggling as tiny lights played over her skin, making sure she was well.
"Gods," whispered Katma. "Oh,
Gods
!"
Katma rushed across the room and hugged Sinestro tightly. "Thaal! You... you were... you were feared dead!"
"Not dead, but close," said Sinestro, a rueful look in his eye, "I was at my lowest. Possessed by a Legion Virus ring, then held under the thrall of the first Green Lantern, Parallax. I became..." He looked at his hands, at his missing ring finger, "I became all I loathe. But I am free of their influence. Unworthy of a ring, but alive."
"Oh, Thaal, you have been missed... Hal Jordan told us of your suffering, but we were unable to locate you, unable to save you..." Tears were filling Katma's eyes. "And now you're back!"
"Not to steal the man's thunder, but he's not the only resurrection, Katma..."
Tui turned at toward the cubicle that was obscured by a curtain. She pulled it back and her jaw nearly dropped to the floor. Kyle Rayner was hooked up to a half dozen machines, but he was smiling, even if his figure was gaunt and skin pale.
"Kyle! Today is... I am..." She shook her head. "I am lost for words," she settled for a smile, and gently hugged the weakened Torchbearer. "How is this even possible?"
"He still holds the light of the Central Power Battery within him," said Sinestro. "It's a shame it took near death to make him realise that."
"Don't sound so disappointed," said Kyle. "Besides, tapping into my power has wiped me out, so there's some downside..."
Stel came crashing through the wall, an arm hanging by a wire thread from his torso. His emerald power ring sparked and spluttered, but he was unable to form a construct.
"Stel!" cried out Katma.
Sparks flew from the cybernetic Lantern's mouth. <un un un unidentified power ring, emerald construct integrity comp compr compromised>
<Sinestro must die,> came the voice from the power ring wielded by the Red Lantern that had thrown Stel through the wall and into the hospital. <Kyle Rayner will suffer. As will all that align themselves with the Green Lantern Corps.>
"The Red Lanterns," hissed Sinestro.
Katma threw up a shield around the room, her sister tending to the fallen Stel but unable to do anything to assist with the mechanoid.
"Friends of yours?" asked Katma, as she saw bright red bursts of light head toward them from behind the first Red Lantern.
"Not really," said Kyle, clambering out of his bed and pulling the wires out of his body. "Gggahh, I am not up t-to this, not at all." He clenched his fist, and it began to glow green.
Sinestro had the child in his arms, and was standing beside Katma's sister. "There are too many. They're an unknown quantity--"
"I know what I'm doing," said Katma.
The lead Red Lantern, a bulbous, small-headed creature, lurched back and doubled forward, unleashing a torrent of violent scarlet energy across Katma's protective shield.
The emerald construct began to blister and break.
<Shield integrity at 60% /// 57% /// failing>
"How in--?" muttered Katma, doubling down and concentrating as hard as she could. The willpower she exerted reinforced the shield, but the other Red Lanterns were approaching, their mouths blistering with the same scarlet energy vomit that the first had unleashed. "Oh, damn!"
"Sinestro, you need to get to safety," said Kyle, "you need to take Soranik--"
"I can help," said Sinestro, "I can--" His eyes wandered to his missing finger, his absent power ring. "I..."
Stel spluttered, his ring threading his broken limb back into place. <Ring communication is ///scanning/// also compromised, unable to connect with the Book of Oa.>
"We're cut off," said Katma, a bead of sweat wandering down her temple.
Kyle turned to Sinestro, placed a hand on his shoulder and also one on Naal Tui's, and then closed his eyes.
"Safety."
"What are you--?!" Sinestro and the child blinked out of existence and Kyle collapsed into unconsciousness.
<The energy these 'Red Lanterns' project negate our own, Katma, and the Torchbearer's life signs have dropped to nearly undetectable levels. We are outmatched.>
"W-what do you suggest?" asked Katma, relieved as Stel's impossible cybernetic willpower joined with her own and bulked up the protective shell.
<We fight,> said Stel, <and /// searching ///
pray
we do not expire.>
"Great," whispered Katma. "What a day."
Sector ##distortion##recalculating##:
"aaaagh" Guy Gardner clutched at his chest, a rising pain shooting from his hear to his extremities. He felt his fingers go numb, his ring heavy on his hand. "Ring, scan for-- aaaaaaaaghhhh!"
The pain intensified and he glanced around himself, the deepest darkness of space all enveloping, no planet or planetoid or moon or asteroid nearby to give him stability. He felt something in his head crackle. Something not right. Nothing in his head should crackle. Nothing should make a sound other than the sound of his own voice inside his head, but there was this sound, like a crackle, like a rustle, that he couldn't ignore.
Something moved against his hand and he jerked his fingers away from his chest and looked down--
What was--?
What was that--?
"Guy?"
Guy's head swivelled around and he saw Arisia slowly floating toward him.
"
What
?"
"Are you okay?" Arisia looked at her ring and tapped it experimentally. "Getting some weird distortions in this area of space, took me an age to track you down."
Guy shrugged. "M'fine, why'd you wanna find me anyway? Ain't got anythin better to be getting on with?"
Arisia's brow furrowed. "Guy, look, I know you had it bad a few months ago, I know the Predator--"
"
Henshaw
," interrupter Guy. "None of this 'Predator' bullshit, his name was Hank Henshaw and he was one of us. I ain't buying none of this 'Star Sapphire entity' garbage. It was him. He did what he did."
"I'm not here to argue that," said Arisia.
"Then get to the point!" spat Guy, mover closer toward Arisia, his face red with anger.
Arisia's ring throbbed and spoke directly into her brain. Guy recognised the flash of light moving behind her eyes. The instantaneous upload of information directly to where it needed to be. <Warning.> Arisia's eyes did the rest for her.
"
Guy!
" she gasped.
"What the hell are--??"
Arisia threw up a solid ring construct at Guy and he dodged out of the way, sending an emerald battering ram at her midsection. She gasped, the wind taken straight out of her, and Guy was on her, his hands around her throat. "Tryin to kill me?! Knew this would happen, knew couldn't trust any of you--"
"Idiot!" growled Arisia, not fighting back. Instead she pointed behind Guy, in the direction she sent her construct. "
Look!
"
Guy turned and saw Arisia's construct melt into nothingness only to reveal an armoured individual glowing scarlet in the recesses of space. Guy looked back at his fellow Lantern, looked at his hands around her neck, and released her suddenly, turning his attention to the interloper-- "Who is
that
?"
Arisia pushed Guy off and readied her ring. "Was... coming straight for you... did your ring not..." She shook her head and rubbed at her throat, the sub-dermal bruises created by Guy's attack already forming. "No matter."
She'd remember this. She'd never forget.
<Guy Gardner, dog bitch of the Corps,> came the voice across the void, the thing that floated nearby surrounded by an aura that seemed to burn in the vacuum. It's mouth was a scabbed mess, the flesh visible on its face almost like charcoal. There were fissures that ran down from it's eyes to it's jawline, and molten orange seemed to glow under the surface. <And the one named Arisia Rrab, one of the greatest Green Lantern to ever live. What a pleasure it will be to kill you now, before you even have a chance to-->
Arisia interrupted him with a construct to the face, sending the creature reeling. "Oh shut up,"
"
Dog bitch
?" seethed Guy, lurching forward, "I'll show you--!"
The Red Lantern grabbed Guy by the throat, his hand piercing the Green Lantern's aura with ease. He then laughed, chips of his face floating off away from his own, blisteringly hot aura. The flesh around Gardner's neck began to blister. The Green Lantern choked and clawed at the Red Lantern's hands, but was unable to break their grip. <Die, Guy Gardner. Die at the hands of the Red Lantern Corps!>
Sector 2814:
If there was an atmosphere on the moon that orbited Earth, you would have been able to hear a ripping sound crackling out from the dark side of the rock all the way round on the side that faced the Earth. The ripping would have started slow, as tension was being caused by corners of existence being pinched, and then the ripping would have started to grow, growl, and finally reality would have split, and then there would have been silence as the tear was healed, and the
thing
that had caused the breakage in reality would be fully in our realm, ready to commit whatever deeds it intended.
The green and black cape fluttered on the lunar winds, white trim highlighting the edge. The man, and it was a man, even though he stood on this tiny lump in space, wore emerald armour, black star fields seemingly moving across his legs and arms. The centre symbol on his chest was a bastardised version of the Green Lantern's own, and there were flecks of viridian fire edging every aspect of the costume.
The man looked up from the cratered ground toward the blue and green orb hanging in darkness. He reached out, his gauntlet-adorned hand open, and then he closed it around the world.
Hal Jordan was back home. Ready to burn it to the ground.
TO BE CONTINUED NEXT TIME IN GREEN LANTERN: "THE PARALLAX VIEW"