Post by Charlie on Dec 17, 2013 15:31:01 GMT -5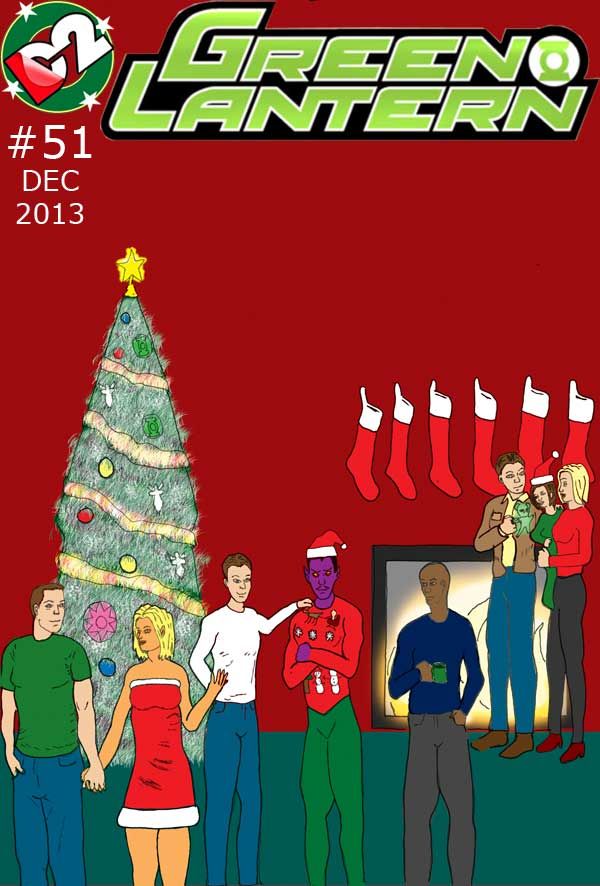 Issue
FIFTY-ONE
: "
And To All A Good Night
"
By House Of Mystery, Alex Vasquez and Don Walsh
One Month Later:

Coast City:
"… I just think that it's really obvious that Coast City is not the best place to raise a child," said Chloe Sullivan.
"Why do you say that? I turned out all right," said Hal Jordan.
"Ha! That was then. Why not now? Because it's a
ghost town
, there are no schools open, and every six months it's invaded by aliens."
"You say that like it's a bad thing," said Hal.
The two laughed, and Chloe shook her head, feigning defeat. "I'm just saying."
"Well, what do you want to do?"
"Get through the holiday season and then worry about it?"
"I can live with that," said Hal.
The couple were stood outside the brownstone Hal had moved into prior to the hell his life had become so long ago. It was bigger than he needed, big enough for a family, but Chloe and Hal hadn't been a family for long before their daughter was kidnapped and kept from them for a year.
But that was then, this was now. Jessica Jordan slept quietly in her father's arms. A year older. Confused at her new surroundings but adapting. Chloe had feared that the year away from her daughter would lead to problems, but the moment Jess' eyes locked onto Chloe's, and the eighteen month year old smiled?
Family.
"So, did you invite your brothers?"
"I did," said Hal. "I spoke to Susan, she said Jim's not been out much since the accident… but they'll try. And Jack… Jack's an ass, but maybe."
"Well, it's good we've bought in enough food for
maybe
, isn't it?"
Hal ran his hands through his hair and then looked at Chloe sheepishly. "And, well, I may have mentioned it to Guy. And John. And Kyle and Sinestro."
"Mentioned it," said Chloe. "Of course you did."
Hal shrugged. "What can I say? They're my family too."
"Do you hear that, Jess?" said Chloe, leaning close to her daughter's ear. "Your '
uncles
' are a bunch of lunatics, yes they are."
"Guy, maybe? Just Guy? And he's mellowed in his old age," said Hal.
"You're the same age, Hal!" said Chloe.
"Oh, crap," said Hal. "C'mon." He looked up at the sky. "Let's finish decorating the tree."
New York:
"Well. Here we are. How do you feel, Kyle?"
"I'm fine, Sinestro. I was flying faster than you!"
"Of course you were."
Kyle Rayner and Thaal Sinestro floated above Manhattan, invisible to anyone who might look up. But this was New York, not Metropolis. As with any cliché, there was truth to be found in it. Only the tourists looked up nowadays.
"After the stress of reigniting the Central Power Battery on Oa--"
"Batteries," said Kyle. "I ignited the Green Lantern's
and
the Star Sapphire's."
"A decision I am still not sure was the right one but yes, you reignited the
two
of them only a month ago. And you were unfazed by such an action. Do you not remember what happened when you teleported us from the Forbidden Sectors to Korugar last month? You were catatonic."
"That was then, before I tapped into this new power source," said Kyle. He absent-mindedly let a strand of white energy bubble up in his palm and then twist into beautiful, unnatural shapes above it. "I feel amazing, Sinestro."
"A power source none of us know the origins of," said Sinestro. "I have agreed to train you in this, Kyle. I have agreed to mentor you in your new abilities. And I hope, through our training, we learn the source of the white energy you wield."
"I still don't know how you think you're going to--" A green construct latched itself around Kyle's ankle and flipped him head over heel, then another construct sent him colliding with the waters below. Kyle surfaced, spluttered, and then looked around. "Hey! Hey, that wasn't fair!"
Sinestro looked down at Kyle and his ring faded after the abrupt burst of energy he had projected. His arms were crossed. Stern as ever.
"Kid, you better listen to him," said John Stewart. The former marine walked over the surface of the water and smiled. "He's been slinging his ring for longer than you've lived. Sinestro knows his stuff."
"Hey, John," said Kyle. Stewart extended his hand and Rayner pulled himself out of the waves. Of course Kyle could have floated upwards under his own power, but the gesture was a kind one, and Rayner wasn't going to say no. "That's right, you're based here, aren't you?"
"Sure am," said John. "Sinestro clued me in on what you're here for."
"Ah," said Kyle. "So, umm…"
John winked. "I'm heading to Hal's now with Sinestro. You go get her, kid."
Stewart headed up toward Sinestro and shook his hand. The two Lanterns looked down at Kyle, and then zipped off into the upper atmosphere.
"Go get her, he says," said Kyle. He sighed and took a seat on the surface of the water. "Nigh infinite power, a connection to the universe unheard of prior to my wielding it, and now this. I am… screwed." Kyle turned toward Titans Tower, and sighed once more. "Well and truly."
Coast City:
The guests had started to arrive.
"Chloe! My
gosh
you look beautiful!" said Susan Jordan. "And—
gosh
—baby Jessica! How are you my dear, how are you?" She leaned in close to Jess' head and kissed her softly. "My lovely niece!"
"Susan, you look fantastic, how have you been?" said Chloe.
"Well, it's been hard." Susan looked embarrassed. "But I don't want to go on about it. Howard's back at school. Jim is… Jim is quiet. But he came, so that's a big tick in the plus column."
"The accident…"
Chloe's mind wandered back to the worst period of her life. Before Hank He—
the Predator
, she corrected herself—kidnapped her daughter and sent her through a dimensional portal to the far edge of space, it tried to destroy Hal Jordan's life in different ways. Stalked Carol Ferris, his ex-girlfriend, flipped Jim Jordan's car with Jim and Howard Jordan inside… the Jordan family had been through hell, and were just getting their footing back in the world.
"Come on in, Susan. We've got bedrooms all set up."
As if on cue, a young girl ran past the two women—the spitting image of her mother—and headed inside.
"
Jane
! I'm sorry, Chloe. They've been cooped up in the car all day, she's going to be a terror…"
"It's fine, really," said Chloe. "Where's--?"
The young Howard Jordan walked into the house slowly, hands shoved deep into his pockets. "Hey, Howie! How are you?"
"Howard," said the young boy. He followed after his sister without another word.
"He's back at school, but that doesn't mean he's, well, back," said Susan. "Where are the boys?"
"Hal went outside to meet Jim," said Chloe.
"Ah," said Susan. "We'll leave them to it, then."
Outside, Jim Jordan looked up at his brother. "You've got taller."
"You've got shorter," said Hal.
Jim wheeled himself around so that he was side on to his brother. He manoeuvred the wheelchair awkwardly, still not use to the logistics of it. His dark hair was longer than Hal was used to, unkempt. Not the Jim Jordan that liked to project an aura of safety and calm for those around him. Unlike the reckless—'feckless', their brother Jack would say—Hal.
Jim rubbed his hands together. "Ha.
Ha.
Aren't we funny?"
Hal scratched the back of his neck as he tried to find the right words. "Jim, I'm sorry I've not been about. So sorry."
"Yeah, you went AWOL for a while, didn't you?" said Jim. "I got caught in the crossfire of one of your little misadventures*, got left in this
fucking chair
and you were off doing what, saving the universe?" The spite in Jim's voice was palpable, and Hal could hardly blame him. After the accident, Hal hadn't even visited, hadn't even called. Hal had died the night his daughter had been lost. He had only just returned from the grave. "And me, I rotted. I've rotted. My son doesn't speak to me anymore, I couldn't protect him, and I can't even play
catch
with him. I can't even…" Jim growled, letting his anger wheeze out of his lungs as best he could. "Godammit, Hal. Godammit I could have lost Howard. I could have lost him, and it's because you're Green Lantern."
*The Predator's targeted Hal's brother in Green Lantern Vol. 1 #27 (38)
Hal went to place his hand on Jim's shoulder, but hesitated at the last minute. "Jim…"
Jim wiped the tears from his eyes. "But look, you've been a shit brother. Nothing new, is it? Jack always saw it. Always said you were the reason mom gave up in the end. I never saw it. Knew that you were just Dad's, not hers. That was me. That was Jack. But then it hit me, when the doctors told me I'd never walk again and you never came to see me, never checked in on me, you were a god damn asshole, Hal. You were everything Jack ever said you were."
"Stop complaining," said Hal.
"Wha—what?"
"You're right, dammit. Of course you're right. I was the worst brother I could possibly be, and I was the worst
father
. My daughter was taken from me, Jim! Kidnapped! I only just got her back, but a
year later
. I lost a year of her life, our life, and it broke me! I
know
what you're going through. I know. And you think that all I can do is offer an empty apology, but that's
not
why I'm here. I'm here to be the brother I should have been. And the hero, too."
Jim's mouth opened and closed again and again, but he couldn't find the words. The two brothers stood in silence.
Hal tucked his hand into the collar of his shirt and pulled out a silver chain. On the chain was a battered and cracked emerald power ring. Hal's power ring. The ring he'd rebuilt by sheer force of will. "I realised something, when mom died*. I could have done
something
. If I can imagine it, I can do it. But where does it end? I could have thought about her being free of the cancer. Of the tumours going away. But what gives me the right? If I start with her, can I ever stop? I couldn't… I couldn't handle it. The scope of it. I'd have to visit every hospital, every hospice, and cure everyone, else it wouldn't be
fair
. That's when it started, I think. When I realised that I didn't have what it took to keep doing this. But Jim--" Hal had slipped the power ring onto his finger, and clenched his fist. "I let you down. And apologising doesn't mean shit, not at the end of the day. Not at the end of the day
we've
had. It takes more than just an apology."
*The funeral took place in Green Lantern Vol. 1 #8 (19)
"Hal, you can't--" Jim started.
"I just did," said Hal. He extended his hand. Jim stared at it. "Jim."
Jim looked at his legs. The legs that hadn't moved, hadn't offered the slightest amount of feeling, for over a year. The car accident had severed his spine. Irreparable. The muscles in his legs had atrophied, even after the physiotherapy had started. Jim just didn't have it in him. He felt empty. But there was an itch now. His big toe. An
itch
.
"
Jim
," said Hal. He thrust his hand forward once more.
Take it
, the gesture said,
take my hand and stand up
.
Jim grasped his brother's hand and took a tentative step out of the chair. He felt weird. His legs tingled. What was that? Like pins and needles. He shouldn't be able to feel anything. Never. Never again. One foot on the ground. An ache under the weight of his leg.
Feeling
. He moved his other foot out of the chair. And then stood. Hal held his hand, and caught him when Jim's knees wavered. But he was standing.
"What… what did you do…?"
"I thought about your spine being intact. I thought about your body healing, your muscles growing. I thought about you being whole again." Hal held his brother up, Jim's arm around his neck. "I am sorry, Jim. I'm sorry I didn't support you when it happened. I'm sorry you got caught up in my life. But I'm here now, and I know that I can't make up for the hell this year gone was, but I can try, I want to try."
"You gave me back my legs," said Jim. He looked up at his older brother as tears welled up in his eyes. "You bastard, you gave me back my legs! How can I… how can I stay mad at you if you go and do something like that?"
"I've always been able to find a way."
The two brothers turned. "Holy shit," said Hal.
Jack Jordan, their older brother, was stood on the edge of the pavement. "I parked a block away, forgot only idiots like you live here," he pointed at Hal, "and they broke the mold when they made you, Harold."
"Jack," said Hal. "It took you the length of the drive here to come up with that burn, didn't it?"
Jack crossed his arms. "Well,
yeah
." He looked around awkwardly, and then dropped his arms. "Christ, boys. Don't
I
get a hug?" He embraced Hal and Jim, squeezed them tight. "Jim, you're walking again. Glad to see you got off your ass at last."
"I don't--" said Jim. "It was Hal."
"I saw," said Jack. "But where was that when the accident happened? Where were you Hal?"
"It's a long story," said Hal. "I'd rather tell it inside. After Jim gets to show off his Christmas present."
New York:
"Oh, Titans Tower. How I have missed you."
Kyle knocked on the front door and waited patiently. After a moment, a coil of metal unwound and levelled itself at Kyle, a red dot at the end scanning him.
[IDENTIFY YOURSELF,]
demanded the tin voice emanating from the door.
"Dude, I'm Kyle Rayner." He motioned down at himself. "Former Torchbearer, current… current Kyle Rayner."
"Kyle Rayner is dead," said the voice behind the cannon that was being aimed directly at Kyle's head. "Try again." Cyborg grit his teeth. His best
I'm-scary
face. If it wasn't for the energy Kyle felt running through his veins, it might have worked.
"Vic!" said Kyle. "If this were an attack, it would be the most pathetic attack the Teen Titans have ever experienced. You're still the Teen Titans, right? Even though most of you are old enough to legally drink?"
"Damn," said Cyborg. He lowered his cannon and it reconfigured into a hand. "Rayner, it is you!"
"Of course it's me!" said Kyle. Cyborg embraced him tightly, and Kyle yelped in surprise. "I wasn't dead for that long, was I?"
"Nearly two years! You were gone for two years!" said Cyborg.
"I know, I know, it was… it was a bad joke," said Kyle. "And I wasn't
dead
, just… discombobulated*. Scattered. I reformed on the other side of the universe. But… well, I'm back now. So I was wondering… is Donna around?"
*Kyle sacrificed himself to defeat Krona and reignite the Green Lantern Central Power Battery in Green Lantern Corps: Liberation #5
"Donna?" Vic made a face-- for just a moment-- that told a story. Discomfort.
Oh, you didn't know?
All the things that Kyle expected, had tried to be ready for, but still hurt like a kick to the crotch.
Kyle knew she was in Titans Tower. He could feel her. That was something he'd have to tell Sinestro soon. He could feel
everything
. An awareness of every moving part of the universe. Every individual person in the world. In the galaxy. The universe was a giant, constantly shifting, constantly moving machine. Like a clock. Every piece contributed to it's running. So, questions. Where was Sinestro? Coast City. Where was his mom? San Francisco. Where was his da—
Kyle swallowed. He wasn't ready to get the answer to that question.
"Yeah, she's upstairs," said Vic. "But look, Kyle… two years, man. You died and she…"
Kyle smiled, tried to do his best
My-name-is-Hal-Jordan-and-everything-is-going-to-be-okay
. "Life happens, man. Don't worry. Can I go up?"
Vic nodded, and Kyle vanished, in his wake was a crackle of white energy. Cyborg almost jumped in surprise. His sensors hadn't expected that.
"Hey, Donna," said Kyle.
He had materialised inside Titans Tower, at the end of the hall that Donna and Koriand'r were walking down.
"X'HAL!"
Starfire raised her hand, cosmic bolt ready to fly, but recognised Kyle a split second before she was about to hurl it.
"Oh!" Kory was shocked by the sight of the man in front of her.
Kyle was taller than he had been, thicker-set, with more muscles than either Donna or Kory remembered. He was clad entirely in white, not a blemish or mark on his costume. He had stubble across his jaw, not for vanity but because there were more
important
things to worry about. His hair was a mess but it worked for him, and the passionate Tamaranean felt something stir inside her. Donna shared the feeling.
Wow.
Donna placed her hand over Kory's, and smiled. On that cue, the alien princess nodded, and turned to walk the other way. She glanced back at Kyle and waved.
"So. Hey." Donna brushed a strand of ebony hair from her eyes. "You're alive, then?"
"I am," said Kyle. "It's a condition I look good in."
"You do."
"You look better."
The two old lovers approached each other slowly*. "It's been a long two years," said Kyle.
*Yes, Donna Troy and Kyle Rayner used to date. This was first seen in Nightwing #24
"It has," said Donna.
Kyle embraced Donna tightly. "I missed you, Donna."
"Kyle--" said Donna, but she decided against talking. Instead, they held each other. Like no time had passed between them, when really, all the time had passed. This moment couldn't last beyond now, so they held on for as long as they could, until…
"I'm sorry," said Kyle. He backed away from Donna. "I shouldn't have… I should… umm. I just saw you, and…"
"It's okay," said Donna. "You think they'd train you for this, wouldn't you? I mean, we don't die that often, and fewer of us are coming back, but you think they'd teach a course on the return of an ex-boyfriend after his presumed death…"
"Ha," said Kyle. "Oh. Wow. That took me by surprise."
"What?"
"'
Ex
'," said Kyle. "I thought I would have anticipated that."
"Kyle…"
"Oh, no, no, I'm not making this a thing. I was, for all intents and purposes, dead. Two years gone between us. You moved on.
That's fine
. But… well, when you say it like that, when you say it like I'm saying it, I sound resentful, don't I? I don't mean to, not at all, it's just…" He paused for breath.
"I have seen the beginning of the universe and the end. I have seen stars born and die. I have seen whole civilisations rise up, I have seen what lies beyond reality,"
his eyes were glowing white, he had started glowing,
"and I know that we are small and insignificant, that there are battles fought over our lives every moment of our existences that we do not even know about,
but I also know that you are the most beautiful woman I have ever met, the most amazing, the smartest, funniest, most terrifying woman in my life." He looked down at Donna, who was looking up at him with wide, marvelled eyes, "And my life is lacking if you're not in it."
Donna smiled. Her face lit up, even if she didn't want to show it. Kyle saw her life flash before his eyes. Her life with him. Every date they would go on. Every kiss they would share.
He didn't realise that was even
possible
for him.
Kyle saw the future. He saw Donna's beginning and end. He saw where this moment, the moment when he would kiss her, would take them.
Kyle saw darkness. And he didn't yet understand how the darkness would fall, but he saw Donna, and he saw Guy and Arisia, and Hal, and Superman, and Hank and Sinestro and all the others, all the heroes of this world and the universe, dead, and he—Kyle—standing above it all, his uniform no longer white, but in fact the opposite, the complete inverse… from White Lantern to what?
In Brightest Day... In Blackest Night...
"I'm sorry," said Kyle. He backed away from Donna. "I shouldn't have… I should… umm. I just saw you, and…"
"It's okay," said Donna. "You think they'd train you for this, wouldn't you? I mean, we don't die that often, and fewer of us are coming back, but you think they'd teach a course on the return of an ex-boyfriend after his presumed death…"
"What?" said Kyle. The moments had slipped past him, had moved backwards, and now he was minutes behind where he had been previously.
"Uh, wow, sorry, I thought I was being funny," said Donna. She blushed. "It's been a while, Kyle. What brings you to Titans Tower?"
There was a slither of hope in her voice.
Me
, he could hear her body scream.
You came back for me, from the dead, for me
.
"I…"
From White Lantern to what?
"…I was just passing by. Didn't want you thinking I came back and was avoiding you or something. I'm actually, uh, I'm heading back into space after tonight. I'm seeing my mom tomorrow and then I'm headed back to Oa. So, yeah, hey."
"Oh," said Donna. "Well--"
"I actually have to go," said Kyle. He motioned behind him with his thumb. Sweat dribbled down his temple. "But yeah, hey. I'm back. If I'm back in this Sector I'll pop in, we'll grab a coffee or something?"
Before Donna could reply Kyle had vanished in a flaring of white light.
"Oh," said Donna. "Umm. Bye."
Coast City:
Hank Henshaw floated above the scene of the crime. The building had been gutted, but scaffolding had been erected, the repairs had begun. This was where he had died*. This was where the Predator had dug it's claws into him, and started wearing him like a puppet.
*Hank Henshaw was killed by Mongul in Green Lantern Vol. 1 #24 (35). It didn't stick.
Across the city, Hal celebrated Christmas with his family. The family Hank had torn apart when possessed*. The Corps had cleared him of any wrongdoing, but did that make it all
right
?
*The Predator sent Jessica Jordan through a portal in Green Lantern Vol. 1#29 (40), seemingly to her death. Except it wasn't.
"No," said Hank.
"What was
that
?" said Kyle. The young White Lantern appeared above Hank, just as surprised by his arrival as Henshaw was. "Oh, Hank, hey, uh, I,
hey
."
"What's up, Kyle? Are you all right?" said Hank.
"I'm, I'm not, no. I need to speak to Sinestro. Are you… hey, are
you
okay?"
Henshaw arched an eyebrow. "What do you mean?"
"I can," Kyle's eyes lit up. "I can see it, Hank. I can see you as a child, a box on your head, playing space-man. I can see you studying, training, becoming an astronaut, orbiting the world and thinking it the be all and end all of existence. I can see why you left NASA, why you--"
"
Kyle
," said Hank. Henshaw had grabbed Kyle by the shoulders. "What's wrong? What's happening?"
Kyle pulled himself from the trance-like state he had fallen in to. "Oh, man. Oh, man, I can't control it. I can see
everything
."
"Just breathe," said Hank. "This power is new to you, you just need to breathe. Work through it."
"It's so much," said Kyle. "I don't think, I don't think I can work through it, I don't think it's that simple. I can see everything, Hank. God…"
"Come with me," said Hank. He shot into the sky, through the atmosphere, and popped into the vacuum of space. Kyle followed close behind, and the two arrived on the Moon nearly instantaneously.
"I've been to the Moon before,"
said Kyle.
"I don't see--"
"Then you're not looking
hard enough
," said Hank. The two men landed on the surface of the moon. Earth was a bauble, hanging in the sky. Everything was so small. "I nearly lost all of this, Kyle. We all did. But this was on
me
."
"The Predator wasn't you--"
"So I'm told, but I remember it all, Kyle. I remember it all like some kind of ridiculous stop motion video that plays through my head every day. But I'm not talking about the Predator. It goes back before that. I let my guard down, I let Mongul kill me. I was weak, and I suffered for it. Hell, I died. Something we have in common, almost, right?"
"Almost, sure, but you didn't let Mongul kill you, Hank. He--"
said Kyle.
"Being back on Earth is killing me," said Hank. He slumped, his broad shoulders shrinking, his rigid, straight-arrow face collapsing inwards as he looked Kyle in the eye. "I don't want to be here. Not at all. But this is my home, and no matter what, I'm drawn back here, again and again. I can't look Hal in the eye. I can't go back to my old life. I asked Salaak to assign me to deep space missions. Anything. But he told me that I'm assigned to Sector 2814. I'm John's partner, after all this. So what can I do? I can fly around everywhere but Earth. I can do that. But you
know
I'll be drawn into something ridiculous soon enough. So I work through it. And I've told Salaak all of this. I need to tell John. I need to let him know that I'm not
right
. I can't suffer in silence else I'll let the universe down
one more time
. If you're struggling, you tell someone, Kyle. You tell someone and
they
help you work through it."
"It won't happen again, Hank,"
said Kyle.
"What?" said Hank.
"The Predator. It won't take you again."
"How'd you know I--"
"I can see your fears, Hank,"
said Kyle.
A black cloud that only Rayner could see bubbled up from the back of Henshaw's head. The Predator. Carol Ferris. Purple light and emerald light and Hank's body split between the two. Behind Hank stood his every future, as a Green Lantern, as a monster, as the Predator, as a dead man, as an astronaut. Pure potential. Kyle could see the future. Every future. He reached out behind Hank and grasped one he liked the look of. He gripped it tight, and pulled it forward. Reality rippled outwards, and Hank gasped, his body screaming
danger danger
but completely unable to do anything about it. He grabbed Kyle's wrist, but nothing could stop the White Lantern now.
Kyle cut infinite futures away from Hank Henshaw's life, and drew a single line, from beginning to end, into Hank's existence.
"What… what… what did you do…" said Hank. His aura fluctuated. Emerald light pulsed as his heart raced.
"I saved you."
said Kyle. He looked at his hands.
"I'm so afraid, Hank. Just like you. But you're right. Thank you. Thank you for showing me that I can do something about it."
Hank shook and he didn't know why. He felt lighter for a moment, but then the weight of the universe fell on his shoulders once more. Kyle had headed back to Earth, back to Coast City.
Hank went in another direction, into the depths of Sector 2814. Earth could wait one more day before he had to set foot on it.
Coast City:
"This feels odd," said Sinestro.
The veteran Green Lantern was stood outside of Hal's brownstone, an array of presents in hand, next to John. They were in civilian clothes, and Sinestro sported a jumper given to him by Kyle earlier that day. It was thick, red and wooly. A reindeer with a large nose was smiling out from his chest.
John smiled, unable to stop glancing at the jumper. "Oh? You're not one for Christmas?"
"There is no such thing on Korugar," said Sinestro. "Kyle has told me of it, of course. He regaled me of all things
human
when we were marooned. I just do not understand the reasoning behind it." He plucked at his jumper. "And what is this?"
"Rudolf, by the looks of it," said John.
Sinestro sighed and knocked on the door.
Chloe Sullivan answered, all smiles, and then her eyes locked Sinestro's. "Oh. Ah."
"Ms. Sullivan," said Sinestro. "We have never formally met."
"Well, yes, umm," said Chloe.
They had met, of course. Sinestro, gutted by the Legion Virus*, shot in the head by Guy Gardner**, kept prisoner by the DEO by order of then-Director King Faraday. Chloe had visited that cell many times, trying to unravel the mystery of the once great Thaal Sinestro. Then Parallax had returned, corrupted Sinestro once more, used him as a pawn to battle the Justice League and then Hal himself. Chloe had been caught in the crossfire***. Painfully.
*Sinestro was infected with the Legion Virus back in Tales of the Green Lantern Corps #1. He has never been too lucky in the DC2.
**Guy used to be an arsehole. Check out Tales of the Green Lantern Corps #4 for that headshot

***Chloe was taken captive by a posessed Sinestro in
Green Lantern
Vol. 1 #1 (12)
The memories were not fond.
"I recognise that look in your eye," said Sinestro. "I do not blame
you
for the downward turn my life took years ago. I see this as a new start. So, if I may?" Sinestro extended a hand. "Ms. Sullivan, it is a pleasure to meet you. I am Thaal Sinestro. I come bearing gifts."
"Oh, you work with Hal?" said Chloe. She smiled. This made Sinestro smile. "I hear great things."
"Most of them exaggerations," said John.
"And you must be John Stewart?" said Chloe. "I've heard of you, even before all of this."
"Oh?"
"Your debrief after your tussle with the Apokoliptian invasion force was required reading after the war," said Chloe. "Well, I require my men to read it before they're allowed out on active duty. I believe they hate me for it. And, by proxy, you?"
John smiled. "It all makes sense."
"What's that?" said Chloe.
"The type of person that could get Hal Jordan to settle down. You, Ms. Sullivan. You are everything I expected of you and more." He shook her hand and smiled. "Is Hal about?"
"Not seen him for an hour, I think he's with his brother," said Chloe. "They're working some stuff out, I guess."
"It's been a long year," said John. "Not long before it's over."
"That's true," said Chloe. "Now, I'm sorry Sinestro, you look
amazing
, has John told you that? Absolutely
amazing
." She grabbed the camera that was next to the door and grinned. "Smile."
"Are you taking a photo because the party just
started
?"
The three of them turned around. Guy Gardner had arrived, a mass of presents in his arms. "Can someone give me a hand with these bad boys?"
"Holy crap, Gardner," said John. He hurried over to the long time Lantern and took some of the burden. "I didn't know you
cared
."
"Guy is finding himself of capable of many things he didn't think possible before," said Arisia.
The amber-skinned alien was dressed in a large, winter coat, a woolly hat and ear-warmers. Guy was in a leather jacket, red shirt and jeans. The air was crisp and cold, but Guy was beaming.
"Where's ol' Highball then?" said Guy. "I got something for him in amongst all this stuff."
"We were just saying, we don't know," said John.
"Anyone tried ring-to-ring?" said Guy. His expression had just gone cold, serious.
"I'm sure it's fine," said Chloe. "There's nothing in this town that he can't handle."
"Chloe, baby, I just arrived," said Guy. "So that thing you just said? That was a lie."
"Oh, brother," said Chloe. She headed inside, followed by Arisia, who was smiling.
"What?" said Guy.
"I like her," said Arisia. "Hey, Chloe is it?"
Outside:


krik krik krik
, buzzed the machine. It pulsed with energy. The atmosphere crackled with it. The man wielding it smiled. The readings were off the
charts
. Then he thought through the implications. The needle hugged the far right side, that meant there was
so much power
nearby. That meant more than one Green Lantern. But how many?
The man's smile faded. Too many Green Lanterns. He had plans for
one
. But two? Three?
More
? No. That would not do.
The man watched Hal Jordan from afar. He remembered how it felt to walk in the Green Lantern's shoes. And he remembered how it felt to wield a ring.
"Oh, Hal, my beautiful Hal," said the man. "To be the man I was once. The man you are…"
"Did you hear that?" said Hal. He looked toward the shadows, across the street from where he stood with his brothers. "Whispering…?" His ring cast a light onto the dark, but there was nothing there. Only emptiness. "I'm going mad."
"Nah, you're getting paranoid," said Jim. "It comes with being a parent."
"I remember that," said Jack. "But now my kids have grown up and they're all terrible human beings. They're at their mom's for Christmas, I'm seeing them at New Year. So… here I am."
"It's good to see you, Jack. We left things on bad terms last time we saw each other--"
Jack cut his brother off with a wave of his hand. "Hal, I was angry, and I took it out on you. Do I regret what I said?
Yes
. Do I stand by it? You're damn right I do. But that was then, this is now. At the end of the day we're
brothers
. That's what matters. So... I guess what I'm trying to say is... if you'll have me in your life, if you'll honour me by being back in mine... I'd appreciate it. I really would."
Hal put his hand out to Jack and his older brother gripped it tightly.
"Weak handshake, Harold," said Jack.
"That's just your arthritis talking," said Hal.
Jim clicked his heels together, still caught up in the rush of being able to walk again. He then turned his attention to his brothers and rolled his eyes. "Christ, enough's enough. Let's head back inside."
Jack smiled. "Sure.
Race you
!"
Jack darted toward Hal's brownstone, followed immediately by Jim. Hal laughed, a hearty bellow from the pit of his stomach and watched two men, both too old to be doing such things, sprinting down the road.
He followed quickly after his brothers when he realised how badly he was losing.
Meanwhile:
There was a loud crash and then laughter. Chloe, Susan and Guy rushed into the hallway of the house, and saw Jack and Jim standing over a the toppled coat rack, red in the face and out of breath.
"What do you think you're doing, Jim?" said Susan. "You can't--" She paused. "You can't just--" She blinked. "Jim. Jim, my
God
, you're
walking
."
"Best Christmas present a man could ask for," said Jim. He rushed over to Susan and kissed her.
Guy rolled his eyes but Arisia punched him hard in the ribs.
Hal appeared at the front door and smiled at Chloe. Jack patted him on the back at he entered, and then closed the door after his younger brother. "So, this is Christmas."
"Sure is," said Chloe. The two of them were close. He leaned in and kissed her cheek then whispered in her ear, "I love you."
She smiled, squeezed his shoulder and nodded. "I love you too, you goof."
"I'll take it," said Hal. "Right! So who's missing? Where's Kyle?"
"Doing that thing in New York I told you about," said John.
"Ah," said Hal. "All the power to him then."
"My, are all humans so eager to
gossip
?" said Sinestro.
"Hey now," said Guy. He looked wounded by the comment. "You're the one who told us!"
"Yes, well," said Sinestro. He looked as if he was building to a point. "No, you're right. I apologise. This is so strange, to be surrounded by people. I seem to have forgotten how best to interact." He twirled his moustache. "No matter! Is there any more '
eggnog
'?!"
John laughed and the noise made everyone jump. "Sorry, but, c'mon, that's amazing."
"I'm not going to mention the jumper," said Hal.
Howard Jordan wandered into the room and looked up to see his dad. Just like his mother, he blinked, confused, but then his face lit up with realisation. "
Dad!
"
"Woop!" Jim pulled his son up into his arms and span him around, Howard laughing all the while. "Gotcha!"
At the sound of all the excitement, Jane Jordan emerged from the kitchen, and her eyes widened in shock at the sight of her brother being carried by her dad. She reached up to Jim, and he picked her up in his other arm. "Oof, you've got bigger, both of you. I have a lot of catching up to do."
"Snow!" said Jane. She pointed outside, and sure enough, a heavy snowfall had started.
"Brilliant," said Guy. "A white Christmas. I think we earned this one, folks."
"It's been a long year," said Hal. "I didn't think we'd make it, at the end of it all. But sure enough, here we stand." Chloe had left during the commotion, and returned with Jessica in her arms. "So, with eggnog in our glasses," he nodded at Sinestro, "I propose a toast."
"Hey now!" Guy had raised his glass before Hal had started talking. "I have one prepared!"
"Oh, right," said Hal. "Go on then."
Guy winked at Hal, and then turned to the others. "We've been through Hell. Plain and simple. You folks don't know how close we came to the end of the world—Jeez, the end of the
universe
. But it was my friends here and on the other side of the galaxy—some who didn't make it through that final battle-- that pulled us clear from the edge. I wouldn't be alive today if it wasn't for Arisia, or Hal over there. Both of you mooks saved my life, and I owe you twice over. I will never forget that. But the thing that keeps us together? That keeps us kicking evil's ass time and again?"
"Ignore the silly man's swearing," said Jim, as his children nuzzled up against their father.
"It's
family
," said Guy. "We're a family. Now more than ever. So a toast," he raised his glass. "To those of us here, to those of us there, and to those of us who didn't make it. To family."
The group cheered, and Hal took a step toward Guy. "You're getting better with the speeches. Only one profanity that time."
"Only needed the one," said Guy.
Above:
Kyle Rayner floated amongst the clouds. It wasn't that hard to stimulate the clouds into filling with snow and then sending it falling upon Coast City. Meteorologists would call it a freak occurrence, but that's not what it was. It was Kyle's gift to his friends. His family.
"Enjoy this peace," said Kyle. "Enjoy this peace while it lasts." The energy behind his eyes crackled. "Because it won't."
Next Month: John Stewart versus Evil Star
Click here to head over to the Letters page! If you've got a minute, please let us know what you thought of the last
Green Lantern
issue of 2013!