Post by Charlie on Oct 29, 2013 18:25:20 GMT -5
NOTE FROM THE WRITER:
It's been twenty months since the second instalment of this three part adventure hit the DC2, and with
Green Lantern #50
only a matter of weeks away, I didn't want that spectacular anniversary issue to go live with gaps in it's run. So, presenting for the first time, edited by the imitable David Charlton and with a stellar cover from Brandon Herren, a story I personally thought I'd never be able to finish... 
Green Lantern #3
--!
PREVIOUSLY IN GREEN LANTERN #1 AND #2...
John Stewart is Green Lantern!
After the death of Hank Henshaw at the hands of Mongul, the former's depleted power ring found its way into the hands of ex-Marine Stewart, but before he could learn its secrets, the charge ran out!
Thankfully, Guy Gardner isn't one to leave loose ends, so he tracked down Stewart, convinced him to join the Corps and then sent him to Oa to begin his training.
Years before, John Stewart was on the frontline during the Apokolips Invasion. His unit were to secure a strategic location in the Middle East but when the Parademons arrived and kidnapped his comrades, he mounted a rescue mission but wasn't able to save them all... Sergeants Tom Slaughter and Alice 'Dresden' Brand were left for dead, and that failure has haunted John ever since...
That was then, this is now: Hal Jordan is retired after the death of his daughter at the hands of the twisted love entity Predator (who was possessing the body of a resurrected Henshaw) and Guy is undergoing rehabilitation after the savage assault he experienced during the Predator incident.
In recent issues, John stymied an bioterrorist attack on New York-- someone released an airbourne virus that transformed humans into pseudo-Solomon Grundies across Manhattan!-- John was able to return the transformed populace to normal, but his day didn't end there...
Adam Strange, thought dead after Rann was scorched by the Predator, emerged from a Boom Tube in New York. John was barely able to get to him before more and more Boom Tubes arrived, heralding an attack by a horde of Parademons!
Was this the Apokolips Invasion all again? Who knows... but the only man who can stand against them? John Stewart.
John was able to turn the Parademons back, and he followed them to their home.
Now then, are you ready to continue? Then let's get on with the show--!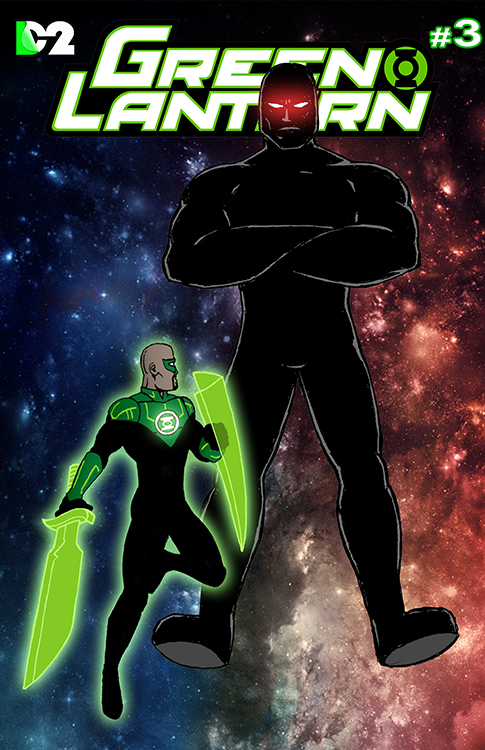 GREEN LANTERN; Volume 2
Issue Three: "
Those Left Behind
"
By House Of Mystery, Brandon Herren & David Charlton
New York City:
Senator Bradley Roth was surrounded by his campaign team as they watched the footage of Green Lantern battling Parademons high above New York City. They watched as the Green Lantern battled Devilance, the Pursuer, from apartment block into high orbit. Satellites tracked the progression of the fight, from Earth orbit to Pluto within seconds. They couldn't see much after that. It was only thanks to Roth's friends at S.T.A.R. Labs that they could track the fight so far.
"What do you think, Senator?" asked Laurie Bogart, his campaign manager. She was a frumpy looking woman, slightly overweight but with a demeanour that said, quite calmly, 'if you mess with me, I will break you'. Bogart had known Roth for years, and he had once said that she was one of the smartest women he'd ever met. It was comments like that which won her loyalty. "You've been campaigning on a platform of
regulating
super-powered individuals, but the alien terrorist attack on Coast City isn't as fresh in the public's memory as things like this. This dogfight just made this man--" she tapped her pencil against the television screen, "-- a hero of the people."
"I know him," said Roth. "I know that man."
"He's
Green Lantern
," said Bogart. "Of
course
you know him. He's new, sure, but you can't miss that logo and that ring. There hasn't been a black Green Lantern before, I don't think. Anyway, this one has been operating for about half a year. Based in New York. Hasn't worn a mask, but no one has ID'd him. No one really cares to… which is part of the problem--"
"Laurie, what I'm saying is, I," Roth tapped himself hard on the chest, "know
him,
" he pointed at the screen. "He's not even wearing a
mask
… typical John…" Bradley tightened his tie. "This man is a war hero. This man, this stupid, insane, brilliant man, has saved the lives of countless men and women in the Armed Forces, and now he's a Green Lantern…" Bradley began to pace the room, watched by his team. "I fought alongside him during the Gulf War. And now…
hmmm
… what on
Earth
have you got yourself involved in, John?"
John Stewart stepped out into a whole new world.
The skies were purple with lashings of red thrown in for good measure. The ground was mostly metallic, covered in what appeared to be ash. Structures were built up in the distance, massive factory-looking constructs, giant towers pumping smoke into the skies.
So, this is Apokolips
, thought John.
<Negative: Composition of planetary mass and universal-position does not coincide with existing information. Celestial cartography checks running... planetary mass is currently in motion, heading through known space, at a speed of 28,003 km/h.>
What?
<This is not a planet,>
said the ring, in Hank Henshaw's voice.
<This is a space craft.>
The event horizon of the Boom Tube snapped shut behind John. Moments passed, and the atmosphere around John filled with the stench of rotting
something
.
It wasn't exactly flesh.
John had once had the misfortune of stumbling upon a body killed by
God-knows-what
in the desert that had been half-rotted down by the scorching Middle Eastern sun. Stewart remembered he couldn't tell if it was a man or a woman, or even a boy or a girl. He couldn't see a face, only sinew and black decomposition.
John snapped back to the moment, cursing his mind for wandering.
First things first,
thought John.
He knew he needed an out if things got tough. He held the Mother Box in his hand and began to project his thoughts into it, just as he had done back in New York.
ping
There are thousands of you in this place.
ping
Then I need you to ask them all a favour. Do you understand?
ping
And when I give the signal, you do what you were made to do, and I'll take you back home.
ping ping ping
Right,
thought John.
Search and rescue.
The Green Lantern had his protective aura run invisibly over his body. The emerald hue of his costume tinted black. This was a search and rescue mission. Stealth and subterfuge. He stayed low as he began to move over the terrain. His ring was buzzing information into his head constantly, making sure he didn't stumble upon any Parademon patrols or rogue New Gods.
<Life sign detected>
John made himself ready. The direction the life sign was moving was in his head. He flattened himself against the metallic floor and projected a holographic image over his body, then had his ring display the thing that was coming his way.
In his hand he was holding an emerald handgun.
Something moved toward him.
His grip tightened across his weapon.
Shadows shifted against the metallic floor panels.
He breathed out slowly.
"Hello?" came the voice. "Is there someone there?"
The voice was that of a child. The ring displayed the shape of the thing that had approached him, and the image coincided with the sound. There was a boy-shaped figure approaching.
The emerald handgun dissolved.
John emerged slowly from his hiding place and held his hands up as a sign of peace.
"Hey there," said John. "Are you--?"
The boy was malnourished and his fragile form was covered in patchy, sweat-stained rags. His head was shaved haphazardly, tufts of hair sprouting out where it could.
Thin strips of silver-tinted wire were lashed around his head, across his temples, to the corners of his mouth, behind his ears and all connecting at the base of his neck. The wires that were leading into his mouth seemed to connect to a device that was lining his throat.
John could see scabbed flesh under the wire around the boy's head, and the way his skin seemed to rend made it awfully clear how painful it must have been for the child.
The boy opened his mouth wide. Impossibly wide. His jaw dislocated and the lower half of his face dropped, the flesh of his cheeks stretched thin and then the boy took a deep breath and made a horrifying, soul-splitting noise that caused John's brain to shut down instantly.
"Wel...come... home," said the boy as his mouth warped back into shape.
The ground beneath Green Lantern parted and two lumbering Parademons were shunted onto the surface on white, glowing platforms. They each took one of Stewart's arms and carried him back into the ground.
The boy wandered off back to wherever he had stumbled out from, whistling a happy tune.
"What…" John awoke with a start. He heard a hum, like a machine running somewhere overhead, something low and mechanical, and then tried to focus on the moment.
John thought escape, he thought flight, he thought so many things but when he managed to look at his hand his power ring was clearly still missing.
Where's--?
As if on cue, what could only described as
feedback
riddled his brain, causing him to grit his teeth and hold back a scream as his every thought
became
col
our
and
hu
rt
"
Wwwonderful!
"
John's skin was smouldering after the feedback had hit. He looked at his arms-- clamped down on a crucifix-like rack-- and then down at his legs-- equally clamped down.
The crucifix was leaning forward so he was staring at the ground but he managed to look up and see the leering man who had spoken moments ago.
The man was thin, scraggly, and wearing flowing purple robes. John recognised him from the debrief files he had read after the Apokolips invasion. He recognised him from the weapons platform he had lost his squad in.
Memories flooded back to John Stewart.
The majority of them bad.
"Desaad," John whispered.
"You know of me?" wheezed the master torturer. "Good."
Desaad took a long spear-like device from the table next to where John was strung up and jabbed him hard with it, electricity crackling from the tip.
"This will make the days move so much faster."
Through gritted teeth, John spoke. "I'm here for the people of Rann. Release them and I won't hurt you."
Desaad laughed and then jabbed John again. "You do not scare me, human."
John said nothing. He wasn't here to exchange quips.
"Nothing to say to that?"
Silence.
"Not even a '
how do you know my name?
'"
John closed his eyes and began to think. Began to order his thoughts and ready a plan. He knew what he had to do, but before he could order his thoughts, Desaad grabbed him by the cheeks and squeezed.
For a little guy he was strong.
That was the thing with these New Gods. They were extra-dimensional beings. They were Gods among men. They were strong sonsofbitches, their strength and endurance way above the baseline for non-metas.
And their individual kinks and fetishes? Weirder still.
There was one, an assassin (John couldn't place his name), who dressed like a renaissance dandy. And then this guy, Desaad, with his iron maidens and his brazen bulls… it was like the history of earth was being filtered through the New Gods' personalities.
Disconcerting…
"You met one of my boys outside, didn't you. Such a delicious specimen. The device I stapled to his throat," Desaad leaned in close to John and then held his own mouth open, pointing towards his uvula. "Bit bawows bim, erhem, excuse me, it allows him, when he screams, to emit a blast of hyper sonics that disrupt the higher brain function. Shorts out your ability to stay conscious and use that ring of yours."
John didn't open his mouth.
"You humans do vary from specimen to specimen. I had a little birdy in the same position as you, a blink of the eye ago."
Desaad reeled back and found himself caught up in the memory.
"Back when we thought your poxy little planet was worth something. Back when Lord Darkseid was so very obsessed with the Anti-Life Equation." The smile on Desaad's face faded. "I miss her. I may have to visit her again some time."
Desaad waited for John to threaten him but nothing came.
"You're quite boring, you know that, John?"
Desaad drove the shock-rod into John's side and the Green Lantern bucked and writhed. He didn't scream though. He held that in. He locked that pain up in a box and compartmentalised it. No one would have his screams today.
"Scream! Why won't you scream? Come on!
Scream
!"
From the shadows a metallic voice emerged. Every word was considered, slowly and thoughtfully, but the voice itself was underpinned by a low level hiss. Like pistons working in place of vocal chords. "He won't… scream."
"You did," said Desaad, spinning around and pointing the rod at the shadows. "Oh, how you screamed. Screamed as I rebuilt your skull with little scraps of metal and sewed your brain back in place. You screamed like a newborn."
John tried to see who was stood in the shadows. "
Whooo?
"
"Don't you. Recognise?" There was a whirr of gears and heavy metal grinding together. A nine-foot monstrosity, a faceplate covering his features but the rest of his body a mixture of flesh and metal, stomped into place. "You wouldn't."
The thing grabbed John's face and dragged the crucifix up so they were head-to-head. John couldn't tell who it was that was hiding behind that mask. The accent was definitively American. Texan if he wasn't mistaken, but he wouldn't be able to narrow… down…
John knew. "Tom."
The faceplate flicked upwards revealing a human face shorn apart in places. The man had no lips, nose or ears. His eyes were bore holes staring back at the Green Lantern. There were flecks of metal barely visible just under the skin around the lidless eyes but elsewhere there were heavy plates of alloy receding into his scalp, keeping his head together.
The man was Tom Slaughter, John's old squad mate, lost in one of the opening skirmishes of the Apokolips invasion. A man that John himself had shot in the head to put him out of his misery. He had obviously failed to kill just as much as he had failed to save him in the first place.
"I call him Slaughter, which isn't really a
stretch
, is it?" said Desaad.
Tom clutched John by the throat. "You tried to kill me, John. You almost succeeded. But Desaad put me back together. He is my God now, do you understand?" He shook, and tears began to well up in his eyes. "
John, I can't control it. Please. Kill me, please. I can't--
" Desaad coughed, and pressed a button on a device around his wrist. Electricity ran through Tom's body and he shrieked, before reverting to his aggresive tone. "You're the monster, Stewart. You made me a monster! Desaad saved me! Desaad is!"
"I tried to put you out of your misery," said John.
"And you failed at that!" Slaughter punched John in the ribs and spittle flew from the half-man/half-machine's mouth as he raged and pummelled. "
Ah, oh, oh God, I can't--"
The pain was something Stewart could deal with. Now he was left thinking about the rest of his squad. The rest of the team that he inadvertently left behind as the weapons platform had returned to sender all those years ago.
"Don't kill him, Slaughter," said Desaad. "The... eheheh... the
master
wants to see him before we begin the vivisection."
"We're not done," said Slaughter, releasing his hold on John's throat. "Not by a long shot." There was a pleading look in his eyes. Begging for death.
"I'm sorry, Tom," said John. "For what it's worth, I'm sorry."
Tom wordlessly lumbered back to where he had been previously. As Slaughter approached the shadows a door slid open, and he stepped through, vanishing from sight.
"You're controlling him," said John.
"Sometimes he forgets who saved his life," said Desaad. "I remind him. And his behaviour is modified. Like a good
pet
."
Desaad took a large syringe from his dirty tray of tricks and plunged the needle into John's neck.
"You sleep now, we have plenty of time for my fun. Might try and see what it's like having the same fun with you as I did the pretty bird. Huh. Different kind of meat dooooooooon youuuuuu thiiiii..."
John faded into unconsciousness.
When John's eyes opened he was laying on the cold hard floor of a prison cell. He looked at his hand and saw that his ring was still missing. Okay. That was fine. He had made--
"You left us to die, John."
"Not you too," whispered Stewart. John rolled onto his back and looked up at the ceiling.
There was someone else in the cell with him. Someone else who seemed to be holding a grudge. He knew the voice straight away. The guilt tore into his gut like nothing else before it.
"But it's weighing on your shoulders, isn't it?"
"Dresden--" John pulled himself up and looked at the woman who was standing by the door. Just like Tom, she was obscured by the shadows for the time being. But he knew her regardless. "
Alice
," he intoned. "I'm sorry you were left behind, but it wasn't my fault."
Alice stepped out from the dark. Her body was more flesh than metal, but she didn't look like she had six years ago. Time had not been kind. Her hair was grey, her skin frail. Her arms were completely cybernetic, and long threads of pipe were trailing from her wrists to the back of her head. Her eyes had been replaced by red lenses.
The corner of her mouth curled up.
"But here you are, untouched," she said.
"I'd kill them all for you," said John. "If you give me a chance."
"They're going to present you to their leader," said Alice. "Our. Our leader." She seemed to have trouble with that concept. "He has a soft spot for our heroes. And he said that he owes the Green Lantern Corps a great deal."
She stroked John's cheek and smiled ruefully. "I always thought that when our last tour was over you would tell me you loved me, John. And we would have lived a life far away from war."
"Life doesn't work like that," said John.
"No. It really doesn't. A shame. But I can see it all so clearly now. Desaad made me accutely aware of my own body. He made me watch as he put me back together. I know every itch of this twisted metal chassis he calls my body. I can see inside myself and I can see everything so clearly..." Alice smiled. "A shame." A needle shot out from her other hand and she stabbed John in the neck. "If I still had a heart it'd be breaking."
John shot up awake in the middle of giant chamber full of men, women and children. They were keeping their distance, sat on their beds and wary of this intruder. "Nn… nn…" John tried catching his breath but was struggling. He looked down at his shirt and saw a small pool of blood over where Alice had stabbed him. "What is wrong with these people?"
"You speak Earth?" A beautiful woman with obsidian dark hair approached John, holding a young child close to her chest. "I'm sorry. '
English
'?"
"Yes," said John. "Alanna? Alanna Strange?"
Alanna Strange smiled broadly and said something in a language John couldn't understand. One of the items on Stewart's agenda was to upload 'common' intergalactic languages into his brain but he found that a process like that left him feeling like he'd downed a few dozen kegs of beer and was left hanging in the morning. He'd managed Interlac but not much more. "Adam find you?"
"He did," John nodded. "Is this everyone?"
Alanna nodded. "Adam…" She searched for the word. "…he taught me your language. Still, struggle. Has been time since I've needed to speak it."
"I understand," said John. "Adam learnt your language through your technology, there was never a real need for you to… oh, it doesn't matter." He placed a hand on Alanna's shoulder and smiled broadly at the child she held. "I'm here to help you."
"Is Adam all right?"
"He's on Earth," said John. "And I'll get you all out of here as soon as I can."
"LANTERN," a Parademon emerged from a previously hidden door, and marched toward Stewart. "SEE YOU NOW."
John turned to face the creature. "What now?"
"OUR LORD WILL SEE YOU NOW," growled the Parademon.
Green Lantern focused his attention back on Alanna.
"I
will
get you out of here."
The Parademons were nearing, and all John could think about was getting these people out of here. His mind was a blur, but he knew what he had to do.
"Okay then, you sonsofbitches," he started, putting on his best Guy Gardner, "take me to your leader. You either take me to your leader or I--"
A Parademon went to prod him with one of the taser-rods they were holding but John dodged, wrenched the rod forward with all his strength, and toppled the creature.
John jammed his elbow into its throat and then pushed his fingers into the wet sockets of its eyes.
The creature shrieked-- more human than anything John was expecting-- and the Green Lantern kept pushing.
The Parademon keeled over, unconscious from the agony, and John stood on top of its carcass, looking at the rest of the Parademons as they stood awestruck by what John had just done.
John's grin was broad and wicked. Pure Gardner.
John pulled the Parademon's laser gun from its shoulder and fired off a salvo that dissolved one of the closest Parademon's torso, then slung the weapon over his own shoulder.
A dozen doors opened around the perimeter of the room and out of them emerged trios of Parademons, all aiming their weapons at John and the Rannians.
"OUR LORD WILL SEE YOU NOW," repeated another Parademon. "ONE PIECE OR MANY."
"I heard you the first time," said John, raising his fists. "Take. Me. To. Your. Leader. If you think you can. Take me, that is."
Too cute
, thought John, as a Parademon struck the back of his head and knocked him unconscious. As the darkness rushed up to meet him, one thought crossed his mind:
At this rate, he was going to end up brain damaged.
"John Stewart,"
John's eyes opened. He really needed to stop getting knocked out. He was in a room that was fitted with burgundy curtains that covered all the walls. There was a throne and on it a man-- a thing-- but the way the shadows played and danced he couldn't see who it atop it.
"Welcome to my Apokolips."
"Except this isn't Apokolips," said John. "And you're not Darkseid."
"I never claimed to be Darkseid, John."
Stewart was getting sick of these bastards knowing his name, and using it like they were old friends. He'd have to teach them otherwise.
"These New Gods you got under your thumb, they revere you like you were him, but when they talk about you… they don't use your name. They don't have the same fear they would have if you were Darkseid. So who are you?"
The shape stood and then stepped out of the shadows. His skin was the cover of smoke drifting across a night sky, but the majority of his body was clad in golden armour with a flowing red cape at his shoulders. His purple hair was pulled behind his head and tied into a neat ponytail, and his blazing scarlet eyes did lead John to draw comparisons to images he had seen of Darkseid. But this wasn't the New God that had ravaged the world. He was too… young?
"My name is Grayven, first and true son of Darkseid."
He grinned broadly, white teeth almost glowing in the darkness.
"My father left a broken kingdom. I have taken it upon myself to rebuild."
John stuck two fingers up at the creature. "Orion. That's one. Kalibak. That's two. You're saying your daddy is Darkseid? Colour me unimpressed. You kids are a dime a dozen."
"I'm not here to impress you, John Stewart,"
said Grayven.
"I'm here to teach you a lesson."
"And here's me without my pad and pen," said John.
"You kept quiet during your torture, John."
Grayven moved forward, down from the plateau the throne was upon and down to where John was standing. His eyes crackled, like there was a fire running rampant in the sockets.
"But you're so full of bravado here. What changed?"
"You're not even Darkseid," said John.
He began to laugh. Apokolips had been on his mind for six years now. What he had done. What he hadn't. The debriefs had fascinated him, in a morbid way.
The death of the first Captain Marvel. The sacrifice of Jay Garrick that didn't stick. The way in which Darkseid almost held ultimate power but was undone by no-one-really-knows what but the Justice League.
And after fighting Devilance and those Parademons, after arriving on this planetoid, seeing Desaad and what had happened to his old squad mates… it wasn't Darkseid after all?
"Let me tell you, son. I am absolutely terrified of your supposed 'daddy'. But you? I don't know you from Jack, and you expect me to be terrified? Come on."
"I am the son of Darkseid,"
intoned Grayven.
"I hold the power of the Omega Pit within my eyes just as he did. You are a powerless speck! I rule this place!"
"Ha. Ha. Haaaa," John couldn't help himself. "Oh, God. And you think that taking my power ring has made me useless?"
"You are still here, John,"
said Grayven.
"About to die."
"No, no," said John. He was building himself up now. "I plan. I prepare. I read enough mission files from my predecessors' tours of duty. The amount of times they lost their rings and had to grapple hand-to-hand, maddening to say the least. So you know what I did with my spare time during Oa basic?"
"What's that then?"
"I trained my ring."
John snapped his fingers and the Parademons flanking the large doors that led out back into the other parts of the complex were felled as a tiny, ring-sized glob of light speared through their heads.
John held up his hand and his power ring slipped onto it. His uniform appeared, the Green Lantern insignia blazed.
"Now
I'm
going to school
you
."
Grayven took a step back and the Parademons shuddered.
"Enough!"
The Apokoliptikan monster's eyes flared and purple shards of light shot out toward John, who deflected them with a wave of his hand. The light spun around mid-air and headed back to John, who swatted them away again.
"No one can outrun the Omega Beams!"
John smiled. "I'm not running"
An emerald pair of tweezers grabbed a Parademon by the neck and threw it into the Omega Beams, fragmenting the creature and sending him out of existence.
"But aren't Omega Beams supposed to be red?"
John shot toward Grayven and sent the two of them roaring through the wall and into another section of the space craft.
"You-- you dare lay your hands on me?!"
"I'll do more than that."
John punched Grayven hard in the face, splitting his lip. He hit him again, and again, and again, and the all the while the Parademons scuttled behind them, not knowing what to do while their master was being battered.
"Here's what I think happened," said John. "You may or may not be Darkseid's son. I could care less. But you're nothing like your father. You're a weak--" Another punch. "--Spoiled--" Another. "--Little--" One more for good measure. "--
Child!
"
John stood over the massive body of Grayven and looked down at the damage he had done. Grayven was bleeding massively, bruised and cut up from John's attack. Under the surface of his skin John could see cybernetic implants split open and sparking.
<Subcutaneous implants providing additional energy, simulating 'Omega Beam' effect via optical inserts.>
"You're a fake," said John.
"I... I... I am Darkseid's son! I am the final step between this reality and my father's! You... you are nothing... I will... I will..."
"You'll what?" said John. He levelled his ring at Grayven's head. "You'll be under arrest."
"MAST. ERRRR?" growled the Parademons.
John turned at the Parademons. His aura throbbed with additional light. "You better run away now."
The Parademons didn't budge. John smiled and sent a blast out energy outward that took the Parademons apart at their molecular level, leaving the immediate area free of their taint
"Now, something isn't sitting right with me," said John. He restrained Grayven with his ring and scanned the creature's molecular structure. "I've seen two big name New Gods. Devilance back on Earth and Desaad in his lab, but no Granny, no..." He clicked his fingers. "
Kanto
, that's his name... why is that? Why do they not follow you?"
Grayven surged upwards, but could not break the Green Lantern's constructs or his concentration .
"I am the scion of the ALPHA
and the--"


John thought about a muzzle forming around Grayven's mouth. That shut him up instantly.
"Have you looked at your genetic code recently?"
Grayven growled and shook under John's constructs.
"You're... you're a
clone
. Not even that... a high-functioning
Animate
, like one of Baron Bedlam's toys.. How is..."
Something inside John hardened. "I'm sorry."
Grayven's eyes open wide as John unzipped his molecules, leaving him a pile of unconstituted Animate molecules.
A heavy sludge of greyish, organic material slipped through the emerald restraints, and John let the constructs fade, then turned his attention to the matters at hand.


Desaad.
Desaad was reminiscing about the fun he had during the Apokolips invasion of Earth when Green Lantern erupted through the wall of his lab in a ball of green fire.
"Oh, well, this is unfortunate," said Desaad.
"You're running the show behind the scenes," said John. "You made that 'Grayven' puppet to exert control."
"You're so smart," said Desaad. "I'll give you that."
"What was your endgame, Desaad? What was the plan?"
Desaad shrugged. "I built a planet-sized murder lab to continue my games. Plucked the Rannians from their sanctuary to have some lab rats to play with. What more do you want?"
"To put you down!" said John, grabbing the New God by the throat and dragging him up to the ceiling. "You've made monsters out of my friends! You've made them freaks! You don't
deserve
to live!"
"Then kill me," spat Desaad. "Nothing you could do compares to what Darkseid has
inflicted
upon me in the past! I am the God of
Torture!
And not just that, but a God of
Life!
Splicing Darkseid's DNA with that of Bedlam's Animate bodies? And not just once... there are a whole
Corps
of Grayvens roaming the galaxy, spreading hate and spite in the name of their 'father' Darkseid... I honour my master with murder in his name and through his dark and storied genetics!"
"You're mad," said John.
"I am
great
," said Desaad. "And if you don't release me, I'll inflict my greatness upon the Rannian people. I'll kill them all and not even bat an eyelash--" John raised his ring and was about to blast Desaad's head off but the New God raised his hands and grinned. "--And before you think of killing me before I give the order, my
death
will trigger the release of a deadly nerve toxin within the chamber they're kept, killing them instantly! So let me go, let me go on my merry way, hurting and killing and torturing across the universe, or I'll kill a whole planet of people. And that will be on
you
."
BOOM
"You don't get to make demands," said John. "No negotiations."
"What was that sound--?" asked Desaad.
"My back-up plan," said John. "I just triggered a Boom Tube for the Rannians. They're heading to Earth as we speak."
Sweat began to pour down the New God's face. "
Whaaaaat
?! How on--"
"Mother Boxes are alive and they don't like being used for evil," said John. "When I arrived here I asked the ones on this hell-hole to help me, and they did. They're sending the Rannians to safety."
BOOM
Desaad's eyes darted around. "What now? What are you doing?"
"Another Boom Tube. Sending the engine into the nearest Sun."
"But if you break the engine--!" Desaad began to shake. "They'll-- they'll--
they'll get me!
"
The planet-sized ship lurched and shuddered, and the low hum that had permeated the air, noticeable previously but for just one moment before becoming the norm, was gone, it's absence now noticeable because of the silence.
"Please, you mustn't, you mustn't let us stop!"
"Why are you so afraid?" asked John.
As if by way of an answer, a wall that was previously intact split open and erupted with a scarlet light.
Two twin beams struck Desaad on the chest and sent a shudder through him
"Eeeeiigihhh! No!"
"What was that?" asked John.
<Energy signature matches that of recorded instances of Darkseid's 'Omega Sanction'; caution advised.>
The demeanour of the voice inside John's ring changed. Hank Henshaw's normally stoic, emotionless voice became anxious, imperative:
<Move your ass, Stewart.>
John's eyes widened. "Oh, no."
"Do you understand?" screamed Desaad. "Do you understand what's coming?! They've been chasing me for months, my War World was the only thing keeping me ahead of them. But the Omega Sanction always finds a way. It always finds it's target!
Do you understand what this means?
"
John dropped Desaad to the floor
"You can't leave me! You can't let them find me!"
"Black Canary says hello," said John.
The Green Lantern turned his back on Desaad, and headed toward the room where the Rannians had been kept.
As he left two more beams of light shot through the room and struck Desaad in the head and heart, and the New God vanished in an explosion of black energy.
"Darkseid is," said John.
Ring, how many Rannians left on the ship?
asked John.
The ship was shaking all around him. Without the engine, with the damage done to the hull by the Omega Sanction and with Desaad's absence, it was falling apart at the seams. It wouldn't be long now until it fell apart in the void of space. Stewart didn't have much time.
<Zero; all Rannians have passed through the event horizon of the Boom Tube you triggered.>
Discounting myself, how many human lifesigns?
<Two.>
"Let's go," said John. He began to run, and then he jumped, flying through bulkhead after bulkhead until he was standing in front of Slaughter and Dresden, both of them writhing in agony on the metal floor beneath them.
"Ring, what's going on?"
<Apokoliptikan technology does not conform to logic-driven systems; supposition: Without Desaad's proximity, internal mechanics are shutting down.>
"No," said John. He threw a bubble over Alice and Tom. "Find what's missing and replace it."
<Unable to comply with request for subject: Alice Brand, physiology is foreign to any known make-up stored in Book of Oa. Not entirely human. Not entirely technological. Not entirely Apokoliptikan.>
"John, please," whispered Alice. "These past few years, all we've known is pain, just... just let us die..."
"Alice, I can't lose you again," said John
Tom spat black blood and turned a heavy head toward John. "Y-you s-saved us, John. Y-you did what y-you h-had to d-do."
John was on his knees. "Ring, do something, dammit! Help them!"
<Unable to comply with request for reasons previously stated.>


"What can I... what can I..." John looked at Alice, memories falling into place. "I got it! Ring, scan Alice Brand's memories. She's got the schematics in her head!"
"
B-Builder.. John..."
whispered Alice, fading away.
<Memories located,>
said the ring.

Install constructs where necessary, engage life saving systems, go go go!
thought John.

The power ring went to work and Alice's body began to glow green. John turned his attention to Tom next.

"G-good job," said Slaughter. "J-just leave me, save her, go."

"I made a mistake when I left you behind," said John. "I'm not going to repeat it. Tom, will you let me save you?"

"J-John, I..." Tom coughed again, bloody now oozing out of his ear. Quickly, without pause, he responded. "Please yes save me please."

"This is going to hurt," said John.
The ring wove light around Tom and began to perform light-speed surgery, excising the foreign matter in Tom's body and replacing it with constructs to keep him alive. Within seconds, Tom Slaughter was half a torso, one arm and a leg, floating in an emerald sphere with strands of light keeping everything attached. Stewart knew about the prosthesis that kept Vic Stone alive, the Cyborg treatment, and prayed that something along those lines would be able to bring Tom back. There were options, and John just had to find the right one for Slaughter.
<Total destruction of craft imminent. John, you need to extract yourself.>


Communicate with the Mother Boxes, ask them to trigger Boom Tubes to get them out, and ask them even nicer to trigger one for--
BOOM
BOOM
BOOM
BOOM
BOOM
BOOM!
"Thank you," whispered John.
Air rushed around John and he smiled as the event horizon of the Boom Tube sucked Alice, Tom and himself through the reality-bending tunnel and back to Earth.
On the landing strip outside of S.T.A.R. Labs New York, super-science technicians were waiting, having already tended to the displaced Rannians.
For a few moments they were shocked at the state of the two ravaged humans, but that moment passed fast and then they started barking orders to each other. They pulled a vat of thick, gelatinous goo to the area and convinced John to place Tom in it, and on submergence, the sergeant was placed in stasis by the chemical compound. Alice was something else entirely. John's ring was the only thing keeping her alive. He kept her together by sheer force of will.
"We need to get her stabilised," said one S.T.A.R. Labs doctor.
"Figure out how," said John. He sent a data burst into their computers with the full breakdown of what was going on inside Alice's body. Then he turned his full attention to Alice, and breathed slowly. This was going to be a long night.
"J-John?"
John had barely blinked since taking a seat at Alice's bedside. He'd not stopped thinking green thoughts about recovery and life support.
"Alice?"
John took Alice's hand as she looked at him, her eyes small and tired.
"How's it look?"
"You look great," said John.
Alice smiled and a small, quiet laugh went through her fragile body.
John thought she was going to break in two.
"Such a bad liar," she said.
"The doctors are working on the problem right now. We'll get you good."
"I d-do not stand corrected," said Alice. "W-water?"
John reached picked up a small beaker and moved the straw to Alice's mouth. She took a sip, but was unable to find the strength for more.
"S'good."
"Good," said John.
"You know what I'm going to say," said Alice.
"I'm not letting you die," said John.
"John, for once, don't be so thick-headed... you saved our lives... now... do this one thing for me... this one... last thing..."
"I can keep you alive, I can keep you going until they find--"
"John," said Alice, sternly, despite her obvious frailty. "John, let me go. Please."
"We've come so far," said John.
"And that's enough for me," said Alice. "Now... please... I won't beg...."
John swallowed hard. He squeezed Alice's hand and with all the might she could muster, she returned the favour. Her soft grip across his fingers sent a shiver through the Green Lantern.
Make it painless,
thought John.
<External life support deactivated,>
said the ring.
Alice died then, quietly, finally, on her own terms.
An hour later the doctors entered the room to find John Stewart standing at the window, staring out at the sunset.
They had just come up with a way of saving Alice Brand's life.
Please take a moment and follow this link to tell us what you thought of this issue!