Post by Charlie on Mar 19, 2010 15:32:01 GMT -5
Green Lantern
Issue Twenty-Five: "
Requiem
"
Written by House Of Mystery
Cover by Jessica Byrnes
Interior Image by Jamie Rimmer
Edited by Don Walsh
Chapter One: Murder One
Green Lantern 2814.1-- recently reinstated after Guardian-approved quarantine-- flew faster than he had ever flown. He was in the subluminal passageways that connected all the Lantern Sectors, and he needed to get home, to Earth, fast. His partner was MIA, his emerald power ring dead. Guy Gardner couldn't be reached. Something was wrong. Something was terribly wrong, and he didn't know what. The flight took him six hours. He went on autopilot for five of those, wanting to keep his mind clear and his concentration crystal. He couldn't believe his eyes when he saw the destruction wrought upon Coast City. He could have wept, there and then, if it wasn't for the Justice League signal going off in his ear.
<Hal, you're back online,> said the voice of J'onn J'onzz into his mind, <there's been a disaster-- Hank-->
"...God."
Hank Henshaw had been dead for six hours before Hal Jordan returned home-- his body was growing cold on a slab inside the Justice League's floating city headquarters when Jordan touched down on the surface. The Flash met Green Lantern, and escorted him down into the medical bay, and there, Jordan found himself unable to speak. His partner was a mess-- a gaping crimson hole in his chest healed somewhat by, he assumed, Barry Allen's ability to speed up other people's metabolisms, and exposure to the Purple Ray Device that sat a few metres away.
"Who did this? What's happened to Coast City-- who let this happen?!" Hal asked, as he turned to the Scarlet Speedster, his fist shaking with a barely contained rage.
"Mongul," replied Barry. "The other GL, Guy, he's with Carol in the meeting room. He's shaken up."
"I'll un-shake him," grunted Hal, "and then I'm bringing that murderer to justice." Hal stormed through the corridors of the headquarters, until he reached the meeting room.
"Hal..." Guy Gardner lurched onto his feet when Hal Jordan entered the room. "Hal, I--"
The punch floored him, and Flash had to restrain Hal to stop the ring-slinger for continuing the attack. "You were his partner, Guy! How could you let this happen?!"
"Hal, whoa, whoa, slow down," grunted Barry Allen. "There were extenuating circumstances!"
Hal looked over to Carol, who had her hand over her mouth-- she'd never seen him this angry. "Carol... I... we..." He closed his eyes, and clenched his fist, then put his hand out for Guy. "I'm sorry. Charge your ring. We've got a murderer to apprehend."
"The League are in Coast City, Hal," said Barry, "millions are dead. Mongul sealed the city up tight, nothing could get in or out. Before we could react, he was gone. It happened so fast, dammit. Emergency services need our help, not for us to go off on some vendetta--"
"This isn't just about Earth. Or Sector 2814. This is about all 3600 precincts in space, and this is about bringing that bastard down for good!" retorted Hal Jordan.
"Dammit, yes," Guy had charged up his ring, and nodded. "Let's go."
"I'll be back," said Hal, as the two Green Lanterns shot out of the HQ, and into space. They were beyond the Moon when Hal began to speak.
"Ring, I want to know where Mongul has gone, and I want to be with him ASAP."
Abin Sur's voice replied from within the ring:
<Tracking. Course set.>
Guy looked over to his comrade-in-arms, and cleared his throat.
"Hal, I'm not gonna' say that I didn't screw up, but Lobo--""Mongul's a strategic genius. A born survivor. He maneuvred me into letting him go free first time I fought him. Threatened Kyle's life. I don't blame you. Sorry, I'm just... he's not getting away with this, Guy.""...Hal?"
Hal didn't look at Guy.
"The way I'm thinking... we finish what the Guardians started all those years ago.""You don't hear me arguing."
Meanwhile!
Mongul was barking orders and pacing the bridge of his ship. "Engines to full-burn! We need to return to War World! We need to break through the Sector barriers and return to safe haven!" His fingers dug into the arms of the chair as he sat down, and he leaned forward, watching the stars streak by. "Faster!"
A helmsman looked up at the captain with a confused expression on his face. "But Mongul, why? You killed the Green Lantern? Why are we running?"
The man's head was blown clean off by a blast from Mongul's chest device, and his twitching corpse was quickly removed by another grunt and his position replaced. "We are not running," snarled Mongul, looking at the rest of his crew, "but it would be foolish to push our advantage too far. We have dealt a blow to the Green Lantern Corps, and thus we shall continue! I was born to a life of war and ruin and I will continue to live it, and we shall deal a never-ending horror to the lives of all those who dream to be one of the Corps."
Oa:
"Hank Henshaw is dead," said Kilowog, pacing the ground. He was surrounded by a legion of trainee Lanterns and Sector Lanterns reporting to Salaak or another one of the senior Lanterns that served the Guardians directly. They watched as Kilowog-- for what felt like the first time for them-- struggled to find the words. "That poozer was one of the best, and he ain't gonna' pass unavenged. Hal Jordan and Guy Gardner are in pursuit. Cock your rings, Lanterns, and join me in our oath-- we got a murderer to take in, and no Lantern will stand alone today."
The roar of agreement shook Oa to the core. The Guardians looked past the walls of their Citadel to where it echoed out from, and Ganthet floated forward, amongst all his brethren.
"Mongul will be joining us soon."
A murmur of agreement rumbled through the last surviving Guardians of the Universe.
"Are we ready to deal with what comes next?"
he asked. The silence was an answer unto itself.
Hal & Guy:
The two Green Lanterns flew in silence, Guy thought about what had happened mere hours before-- someone he'd been entrusted to look out for had died. Henshaw had thrown himself head first into a fight, something Guy could very much relate to, and he'd come up... dead. A hole through his chest and nothing to save him. No safety net. Guy hadn't had much time to reconnect to Earth. Legion reset his personality regularly in deep space, but being in close proximity to Kyle Rayner-- Ion, the Torchbearer-- had cleared his mind of that chaff, had allowed his personality to stay solid for however short a time... Guy Gardner had connected to the Green Lantern Corps, and he'd loved it... until Kyle had died, and Legion reasserted control. He couldn't be weak, could he? Not now. Not for Hank. He needed to be avenged. And that's what he would do. Brutally. Painfully.
Hal broke the silence, looking over his shoulder toward Guy.
"I learned a lot when my mind was taken over by the Legion virus. Well... not learned... but retained,"
he said.
"I need you to open your ring up to me, because I'm going to turn everything up to 11.""Excuse me?"
asked Guy. He didn't like the sound of that. Not one bit.
"All Legion brought to me was a bunch of pain and lost time, and I'm not sure I want to use anything that thing did to us..."
Hal grabbed Guy's shoulder, and looked him in the eye. They were never best friends. But with Legion in him, his frame-of-mind was all hate-hate-hate... but like he had thought earlier... Kyle had helped him. Strengthened him. That explained some things, for sure...
"We need to fly faster. This can help. Trust me."<Trust him,>
the voice inside Guy's ring spoke directly to his mind.
<He's more than he was. And so are you. You'll see in the days to come.>
You're right,
thought Guy,
dammit.
<Well I'm not here to make you happy, Guy. Here to keep you on the straight and narrow. S'not like you pay me.>
Shut up
, thought Guy again. He nodded and his ring snapped to attention as Hal attached an energy tether to it.
"Up to 11 then, right?
Hal's eyes burned emerald green.
"Right."
Meanwhile!
"Mongul,"
said the emerald light that appeared before the golden skinned monster.
"You'll never fly far enough. Fast enough."
"What?" mumbled Mongul, rubbing his eyes. The light was impossible-- there was nothing green on his ship. Nothing like that light...
"Master?" inquired one of the grunts, but Mongul waved him away.
"We're coming for you,"
said the light, as it became solid, as it became a shape before him. Hal Jordan's smile was undeniable. He pointed an unwavering finger at the murderer before him.
"You're... this is not possible."
Hal Jordan smiled.
"Oh it is, Mongul. You tricked me once. But you won't trick me again. We're coming. Straight at you."
Mongul snarled as he surged out of his seat and unleashed a blast of energy at Hal, but the figment dissipated, and the onslaught tore through a computer bank. "Sir!"
"WHAT?!"
"The engine controls, sir! You just destroyed the engine controls!"
Mongul's eyes opened wide. "...What?"
Hal & Guy:
"I just threw my mind forward,"
said Hal, blood dribbling from his nostril,
"Christ, that was painful. His engines are down, we'll soon be up on them."
Guy nodded enthusiastically, and then prepped his ring for a fight.
"Game plan?""Hard and fast and taking no prisoners."
Mongul's ship came into view, and the Green Lanterns went to work. Guy went for the engines, removing the exterior drives with an emerald buzz-saw and a curse word, and Hal phased straight onto the bridge. "Mongul. You're under arrest."
"Oh, please," hissed Mongul, activating his chest device. The chaff hit Hal immediately, and he fell to his knees, clutching his head. "You. Never. Learn."
Hal looked up, a bead of blood dribbling from his nostril. "Of course we do, you yellow-skinned bastard."
Guy Gardner caught Mongul in the back of the head with an emerald battering ram, toppling the intergalactic terrorist to the floor. The purple-suited monstrosity span around and blasted Guy with his chest-device, but Guy swivelled round, and Hal sent a construct flying toward Mongul's neck, a loud snapping noise keeping the monster close to the ground.
"Y-you Oan SLIME!" howled Mongul, a raised octave in his voice activating the whole arsenal of internal security in his ship-- blasts of high-octane energy blasted indiscriminately across the interior of his ship, killing his crew and destroying machinery at random, bouncing harmlessly off Mongul's hide and staggering the Green Lanterns. "Die! Die a thousand times, you lapdogs!"
Guy looked at Hal, and then glanced outside-- they were heading toward a planet, the exterior of the hull shaking maniacally, until suddenly fire was visible outside. "We've hit the atmosphere!"
"Hold on tight, and don't let him out of your--" Hal looked over to Mongul, but he had moved impossibly fast, and now had his hands round the neck of Highball. "Ggghhkk!"
"I killed your puny comrade on Earth, Jordan," hissed Mongul, "killed him to death. Now you'll suffer the same fate, and I'll laugh all the way back home, your head on a pike, next to your red-headed partner over there. Dead and dying, Lantern! Dead and--"
"Oh, shut up," spat Hal, his entire emerald forcefield exploding outward, a thousand boxing gloves staggering Mongul back.
"Can't talk to me like that," the air hissed as Mongul's device burned into full activation mode, and Hal and Guy fell to their knees as the mental static made even the thought of breathing an agony. "Never talk again! Even if you survive, your brains will be water! I will stand SUPREME!"
Hal pointed his ring at Mongul, but nothing came out. Mongul laughed, and Guy had his forehead tight against the cold hull of the ship, his automatic shield taking the brunt of the laser volleys from the sentry guns.
"Impact!" screamed Mongul, and suddenly the whole world went white, and Guy and Hal blacked out. The ship had touched down hard, splintering across the barren desert landscape of the planet. Their forcefields held up on instinct, but Guy and Hal were scattered away from each other, and Mongul had vanished from sight.
"Gnnnnghh," groaned Hal, as he pulled himself up from where he lay. The world was fuzzy, black around the edges, but things were beginning to come back into view. The grey sands were littered with smoking, crackling debris, and Gardner was nowhere in sight. "Oh, God," he whispered, just as Mongul, his purple uniform torn and shredded, his green blood dribbling down gaping wounds, trudged toward him.
"You can't kill me, Lantern," said Mongul, "if I have to tell you a thousand times, even as I murder you beyond reasoning, know you can't kill me."
"Tracked you down, Mongul," said Hal, climbing to his feet. Mongul swung a fist, but Hal dodged lazily, his head heavy on his shoulders, "put the fear in you. Bet you never felt that before, not since the Guardians buried you deep, right? Slaughtered your war-mongering people because they were the bad eggs of the universe," Hal was dodging, Mongul growling in anger at his every syllable, "and looking at you, I think I can see why."
"You know nothing!" he spat.
"I know this!" said Hal, punching Mongul in the chest, "I know I thought hard when you unleashed your full strength, I thought 'what would happen if microscopic constructs found their way into Mongul's body, and began to enlarge in his brain'. Because that's how I've been taught to think, Mongul. What about you?"
Mongul staggered backwards, and Guy Gardner tackled him around a leg, causing him to fall to his knees. "Can't…"
"Can't think?" said Guy, punching Mongul in the head, "mental chaff, you sonofabitch! You brag about it so much, why not try a load for yourself?"
Hal pointed his ring at Mongul's head, and it flashed. "In your motor centres. Making it hard for you to think. And you know what else? Cutting away all the material you need to work that thing in your chest. Our rings are different to the thing your people made to kill it, Mongul. Our rings are symbiotic in their own way. Partners to the end. They'll look after us to the best of their ability, even if we don't think it. Your device? It needs you to think, and you won't be thinking for much longer… resist arrest," hissed Hal, as he pushed his ring against Mongul's temple. "For Hank. For Kyle. For the Corps and for Coast City and for all the people you slaughtered-- resist arrest."
"I-I surrender!" said Mongul, putting his hands up. Hal looked at his enemy. The anger boiled in his blood, and beads of energy burst out of his ring. The monster's weapon was sparking madly, and he looked at Guy, who could barely contain his own anger.
"Do it," he whispered, "do it Highball."
"I surrender," repeated Mongul.
Hal bit his lip, a million thoughts rushing through his head. The wanting to kill, to hurt, it had faded within seconds. He'd never killed before, not knowingly, even when he flew in the Air Force… and now? With the battle won and the day nearly over… "You... you surrender?"
"Hal!" shouted Guy, as he flew into the room, "you got him, now end this! He killed Hank! He killed millions!"
"He's surrendered," said Hal simply. "Nothing would be gained. Let him rot on Oa. Let him spend his days suffering."
"If you won't kill him, then I--" Hal threw up a shield around Mongul, and sealed him in a sphere.
"Not now. We're not executioners. I spoke too soon before... I can't kill him. And you won't."
"Oh yeah?" snarled Guy, "he's a murderer, Hal. Come on."
"No. We're going back to Oa. Mongul will be tried by his crimes, judged by the Guardians for his crimes."
"You... I..." Guy didn't know what to say. He powered down his ring, and then nodded slowly. "It's your call."
"Then to Oa," said Hal, as he closed his eyes and sealed the ship up in a construct. "And then home."
The two Lanterns looked up at the sky-- it had been black before, barren as the night-- and saw a swathe of emerald light now present. The Green Lantern Corps had arrived, lead by Kilowog, and they had watched the final moments of the battle. Salaak sealed Mongul up in a sphere, and Tomar Re separated Mongul from the device embedded in his chest that had made him such a danger to them all.
Kilowog patted Jordan slowly on the back. "You did good, Hal. Welcome home."
Chapter Two: Family Reunion
Hal Jordan soared over Coast City, and despaired. During his quarantine period on Oa, Mongul had come here and laid waste to this once beautiful, vibrant city. Where there were once spires of glass were broken husks. Considering all the damage, all the pain and hurt inflicted upon this place, the people refused to move away. The government were a constant presence, along with the Justice League, all trying to help those who were hurt in the attack. People didn't want to leave. The city,whilst damaged beyond imagination by the alien artillery of Mongul, was buzzing with activity, rescue workers and members of a half dozen super-teams working to move the debris away. Hal had been here a few hours before, pooling his willpower into the repair of the sewage system. Water and waste management had been a priority-- if people were going to insist on staying in this near-warzone, they'd have to have access to clean water, that was a given.
Where there had been millions, now there were hundreds. And that number was dropping even now. More and more injured were being found in the aftermath of Mongul's attack, and the death-count ticked higher and higher with each passing day. Soon, he hoped, the numbers would settle, people would stop dying, and the city would rebuild… however long that took to happen was a mystery to Hal.
Green Lantern shook his head, and thought about what he could do. He contemplated his next move. Who he could talk to. What he could do to make things better. Barry had it bad enough in Keystone and Central, Ollie was incommunicado with Greg Saunders and the Seven Soldiers… Bruce was back, but did he really want to talk to tall, dark and broody? Hell, he was avoiding Clark for all the good it did him… He thought about Gotham and Metropolis and Star City, but instead, he levelled off, and headed home, to the waiting arms of Carol Ferris.
"Carol..." he said, as he came into view of the apartment. "Carol, I..." he started again, out of earshot of his girlfriend. When he finally landed, they embraced tightly on the balcony of their apartment. "Carol, I'm sorry I've been gone for so long."
"No," Carol shook her head. She'd imagined this moment for weeks now, and now that it had finally arrived, she couldn't think of anything to say. "You're back now. You've missed so much. But it's OK."
Hal nodded, and ended their embrace. "I know I've missed a lot. Superman was able to get a message to me about Chloe, and, well..." Jordan looked up at the night sky, and then grimaced. "I don't know what I'm doing. Not now. Not before. I was just kind of... coasting. And now with Hank dead... well." He turned back to Carol. "I'm sorry."
"You're sorry?"
Hal nodded again. "I need to take some time off from Ferris Air. And from us."
"Excuse me?" Carol said, a hint of surprise in her voice.
"I don't want to hurt you. And by my own... reluctance to fully commit to this thing, I've not only jerked you around, but I've messed Chloe up, and now I have a daughter? I have no idea what's going on. Ever since my mom died... Jesus..." His ring flashed, and he looked down at the throbbing light. "I can't do this right now. Us. I don't want to drag you along for this stupid ride I'm hell set on being on."
"'Stupid ride'? Do you know how insulting you're being right now? You think that matters? You think you're the only one who has a stake in this thing we called a relationship? That you're the only one that matters? Wow, I know you were arrogant Hal, but I didn't know that you were so deluded as well-- Chloe and me, we decided how much we wanted you in our lives, we always knew what was going on with you. Hell, Green Lantern or not, you're Hal freaking Jordan, you're not the surest bet, are you?" She cleared her throat, and then just shook her head, a smile on her lips. "I understand what you're doing, even if you don't know the reasons yourself. But if you think you can walk out now, and have a job waiting for you when you get back-- and I think you believe that, don't you? That I'll wait? That if this thing with Sullivan falls through I'll be waiting? Wrong. You walk out now, Ferris Air is done with you. 'Time off' isn't a luxury I can afford from my pilots. This isn't a part time job for me, Hal. This is my life. You can't just walk in and out when it suits you. You leave now, we're done professionally. That's just the way this is going to have to be."
Hal said nothing. He looked down at his ring, and then back up to Carol. "…OK."
There was nothing left to be said. They shared a lingering, awkward silence, before Hal excused himself and was off again, a streaking emerald light joining the sky. He headed east, toward a small town in Kansas... and when he touched down, he erased his costume, and bumped into Clark Kent.
"Wha... Clark?"
"Hal," said Clark, "I've been expecting you."
"Yeah? Well, great, but I have something I have to do--" Hal went to go past Clark, but the reporter placed himself in front of the airman. "...What are you doing?"
Clark loosened his tie. In the dim light of the sunrise, he looked oddly out of place in his dark blue suit and one of his father's old red ties, but Hal didn't want to question it. "You're a good friend, Hal. One of my best, you know that right?"
Hal nodded slowly. "Sure. But why do I feel as if you're going to say something that's going to ruin that for us both?"
"Chloe Sullivan is one of my best friends too. One of my oldest. And you came into her life-- or she came into yours, whatever-- and now she's the mother to your child."
"Someone who I really want to meet, Clark," said Hal. "So get to your point or get out of my way."
Clark's face shifted. Hal almost jumped at the change. "Don't hurt her. Don't you dare. Because she means something to me, Hal, and I know you well enough that you leave a trail of broken hearts wherever you come from. I'm asking you as a friend... please... don't hurt her."
"Are you serious?" asked Hal. "This coming from a man who won't even man up enough to take off his glasses and share his identity with the woman he claims to 'love'? Clark, before you even think to give me advice about my love life, look at your own and take stock, because you've got a good thing going with Lois and you're afraid to commit. You have no right to tell me how to handle my love life when can't even decide what
you
want in life. Hell, I've come here, haven't I? I made the decision to come here, and I didn't need a poke or a prod from you. 'Trail of broken hearts'? Are you listening to yourself?"
Clark looked at Hal, and clenched his fist. Hal's ring whispered warnings to him-- danger close-- but Jordan didn't move to defend himself. He was a pilot, he flew to the edge of what was safe, and he didn't stop because someone told him not to. "I'm asking you as a friend," said Clark, even slower than before…
Hal put up his hand, interrupting Clark mid-sentence. "And I'm tell you as a friend, as someone who respects you, that you don't even
think
to tell me what to do. I'm here. Right now. I'm going to do my best. You can't ask anything more of me. Before you hand out advice on my love life, evaluate your own."
Clark said nothing more, just a gentle nod rocking his head up and down slowly. The two men entered the farmhouse on Kent Farm, and Clark finally broke their silence, changing the subject drastically. "Ma lives in town. She runs the General Store. Dick Grayson bought the farm and gave it to me last year. Chloe's here now because it's the safest place I could think of that's not in sub-zero temperatures. Plus, she's Smallville, born and bred."
Hal shrugged as they entered the kitchen through the back. "She's the Director of the DEO, Clark, I don't know how much safer she can get."
"Not anymore, Hal," replied Clark, as he filled a mug full of coffee. "DEO's been disbanded. That's Justice League business, fill you in at the next meeting. She's up the stairs, second door on the left."
"Thanks," replied Hal, as he climbed up the stairs. The landing was dark, lit barely by the rising sun. He slowly pushed the door open, and saw Chloe standing over a crib. "
Hey
," he whispered.
"Hal?" said Chloe, almost jumping out of her skin, "
Hal?!
" She rushed over to him, and he hugged her tightly. "I thought you were dead. I had kind of hoped..." she laughed softly, and shook her head. "You've taken your time getting here, haven't you?"
"
Not by choice, Chloe,
" Hal replied. He realized then that he was still holding Chloe closely, and that he didn't mind one bit-- and apparently, neither did she. "Uh, so,
so
," he continued, "
what's her name?
"
"Jessica," said Chloe softly, as she led him over to the crib by the hand.
"Oh." Hal blushed, and a heavy weight filled his throat. "Jess… Jessica was my... my...
oh
."
"I know, Hal. It's a beautiful name for a beautiful little girl. I hope you don't mind..."
"Mind?" Hal looked down at his daughter, and felt himself grinning from ear to ear. "That's our little girl."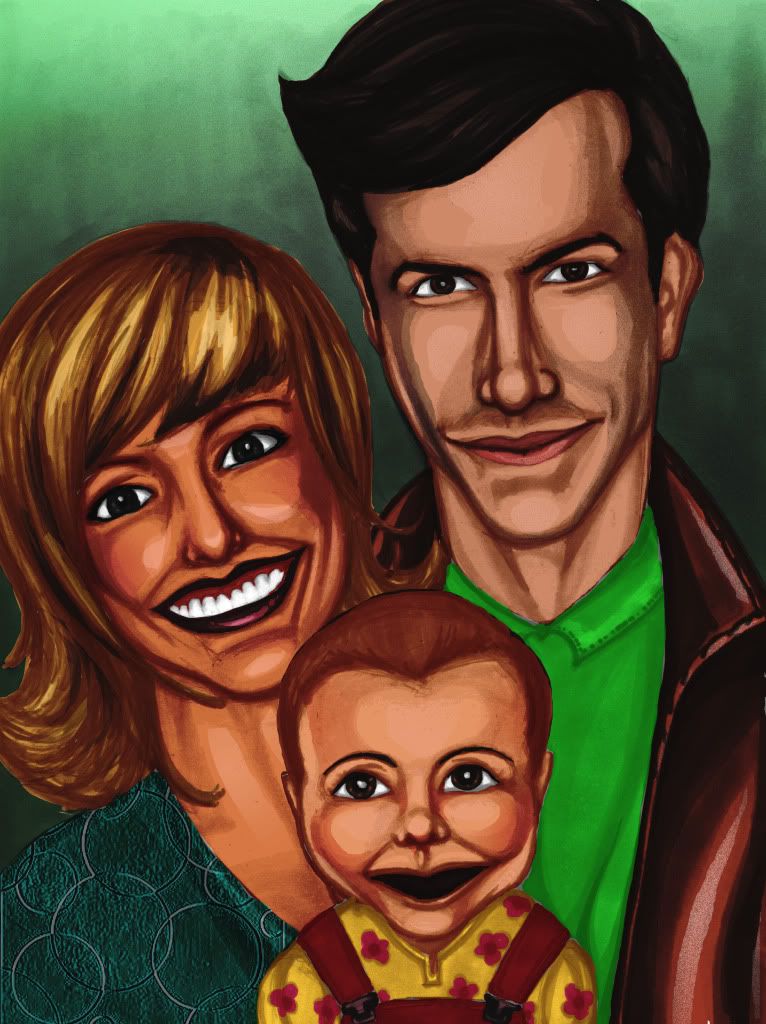 Chapter Three: Not Of This World
Guy Gardner sat in the dining hall on Oa, staring at a wall. Kilowog watched him from afar, and, after Guy had done nothing but stare for an hour, he finally went over.
"Gardner?"
Guy turned, and managed a weak smile. "Alright, Kilowog?"
Kilowog sat opposite Gardner. "Yeah, Poozer, an' yew?"
"Could be doing a lot better," Gardner's replied.
"Yew took down Mongul, Guy. G'work."
"It was Highball. Mostly. That thing... that monster... slaughtered millions just to raise a little hell and get back to the Green Lantern Corps. God damn." Guy wrung his hands together, and then slammed them as fists on the table. "I shoulda sorted that out then and there. Hal and I were so hell bent on ending him, then and there, and I truly believe we'd have been well within our rights to. But we didn't. We didn't."
"Yer better than most, Guy. Yew took th' high ground, an' that's respectable. He's in lockdown right now, unner th' supervision of the Guardians themselves."
"Well, let's hope they're braver than me," said Guy. "I'm gonna' head back to Earth. I need to find my life again. Speak later, alright, Kilowog?"
"Sure thing, Poozer."
Guy lit up his ring, and scorched out of orbit. Meanwhile, in the Citadel, the Guardians looked down at the cage with Mongul chained inside. The Guardian known as Ganthet hovered over head, a grim expression on his blue face.
"Mongul. You have committed crimes against the Corps. Against Sector 2814, and the planet known as Earth. How do you plead?"
"Guilty! But if I am guilty, so are you-- of so much worse!" spat Mongul, defiantly.
"That is not up for discussion at this venture though, is it Mongul?"
"Eh? What--"
"Our past digressions are not up for discussion,"
said another Guardian.
"You are a blight, just as we predicted. You created a weapon capable of hurting the Corps-- just as we predicted. Nothing we put in motion all those years past was for naught. You are a blight. You must be contained."
"Then
kill
me," screamed Mongul, "because if you don't, I'll keep coming after you! I'll k--"
"Silence,"
said a female Guardian, and emerald energy lashed itself around his mouth.
"You have caused hurt to our Corps. So we will not kill you. Ever since our emergence from the body of Kyle Rayner, do you know something, Mongul?"
The mute killer did not move. He couldn't even if he wanted to.
"We have begun to feel. Emotions. We fear it may be a hindrance to our ability to serve the universe, to say the least, but right now, we are able. But we have been feeling emotion for some time now... and we remember how it felt for Kyle Rayner when you nearly killed him. And we remember how he thought he could deal with you."
A hole began to form below Mongul, and the yellow skinned monster looked down, his eyes wide.
"Imprisonment inside the Central Power Battery is too good for you, Mongul,"
the majority of them said in unison, floating high above their enemy.
"So we'll put you back in a hole. One that you'll never claw your way out of."
Mongul's cage hurtled down into the darkness, and then the floor beneath the Citadel sealed up. The Guardians looked to one another, and then, as they were wont to do, continued about their business.
Ganthet was the only one to look down at where the hole had been. He was the only one with a troubled expression on his face.
Chapter Four: Repercussions
"This has to end."
Bradley Roth surveyed the data from the events that unfolded over Coast City. He'd witnessed the damage first hand, and he intended to use that to his advantage. An alien had done this. And they'd done so much more damage to this world that previously thought-- and these Green Lanterns, as they were known? Intergalactic policemen? Who gave them the right to patrol their territory? Who said that they could do such things on
Earth
? It was their recklessness, their sense of self importance that had lead to Coast City becoming an ashen wasteland. The Justice League had tried their best-- ineffectual bastards that they were-- but the place was a horror. A useful horror, but a horror none the less.
"Something is wrong with the world if we continue to let these 'illegal aliens' run rampant across our land, over our borders… the alien threat… one from without emerging within… it's such a real problem that needs to be recognised. We have a problem with immigration, and we try our best to fix that, but the parallels to that and this are so real, so tangible… aliens come to Earth. Aliens settle on Earth. Aliens lead to more aliens leads to disputes and wars and we're caught in the middle. That can't do, not at all. The rights of humanity must be heard. We're being threatened by a force that can destroy us without a thought for our own safety. Someone must speak out against them."
There was a rumble of agreement throughout the room. Roth continued: "Coast City will stand as a beacon. As a sign to show what will happen if the world continues to allow these aliens free reign over Earth." He frowned, and latticed his fingers within one another. "The United States will have to lead the way, as ever. Bring this problem to light. I don't want my children to live in a constant state of fear. No one deserves that. I would give my life for this country, this small little planet."
"Fantastic, sir," said one advisor. "When do we get started?"
"This is day one, son," replied the man, "let's get to Coast City. And let's get to the good work that'll save the world."
Chapter Five: New Leaves
Guy Gardner landed around noon, floating where Hank Henshaw had died. His ring went to work immediately. "A power ring does not vanish," he said to himself, "so come on, kid. Where did it go?"
<Power Ring 2814.2 unable to be located-- Supposition: Charge depleted past 0%>
"Makes sense. Where was it last located? If we get within range of it, I'm sure we can figure out our next move pretty easily."
A map appeared in front of Guy's eyes, and he smiled. "New York, New York. So good--"
His power ring interupted.
<Please don't finish that sentence...>
"Fine," smiled Guy, as he shot toward New York, and Hank Henshaw's power ring. Guy landed on top of an apartment building, and changed into his civilian clothes. "So the bearer of a power ring is somewhere in this building?"
<Without charge, without knowledge.>
"Where?" The map intensified into a blueprint of the apartment building, and Guy descended down the stair well until he found the right apartment door. "Are we sure?"
<Have I ever lied to you?>
"On occassion..." replied Guy, as he rapped the door.
The door opened slowly, and Gardner grinned as he met the eye of the man whose hand currently bore a Green Lantern power ring. "Hello. My name is Guy Gardner. And that piece of jewelry you're sporting right there?" He motioned to the man's hand, and then brought up his own. "Well, seems to me like we've got something in common. What's your name, chum?"
"You're one of those Green Lanterns. Oh, it's all starting to make sense. The name is John Stewart-- and you can tell me how the hell I can get this ring off of my hand!!"
Chapter Six: Lost Loves
Queen Aga'Po suddenly clutched her temples, and the council rushed to her side at the action-- "Your majesty! Your majesty!"
"Something is wrong," cried the Queen, "halt the forging! Tell me... tell me... what is the status of the Predator field?" A hushed silence washed over the crowds of regal former-Malthusians. "No, do not fall silent at the name of it!
It
is a thing, and a thing we control! We bind with eternal love! What is it's status?!"
A scientist typed something into an organic-appearing console, and a massive screen shifted into view. A thick purple ichor began to subside when-- nothing else was there.
"Oh, no," whispered Queen Aga'Po. "The Predator is gone... this..." Her face hardened. "The Guardians did this. The Green Lantern Corps seek to weaken us. We do not need the Predator! We did the universe a service containing it! Now the Corps seek to weaken us? Oh, they have made a mistake beyond any made previously! Resume the forging! Love must persevere!"